NL Notes: Schoop, Escobar, Diamondbacks, Kang, Pirates
The Brewers will have a tough call to make on Jonathan Schoop following the infielder's struggles in 2018, and general manager David Stearns opted not to tip his hand when it comes to tendering a contract to the arbitration-eligible slugger (link via MLB.com's Adam McCalvy). "That's a discussion that we're going to have to continue to…


NL Notes: Cubs, McGwire, Nationals
By renovating the historic Fenway Park in 2002, Boston augmented their baseball ops department with the quickening revenue streams from an improved stadium experience – a strategy Theo Epstein brought with him to Chicago, writes Paul Sullivan of the Chicago Tribune. Additionally, both Fenway Park and Wrigley Field, under Epstein's leadership, have benefited from in-stadium advertising…


Brewers reflect on falling short, promising future
Tuesday was a day to look back and to look ahead for Brewers general manager David Stearns and manager Craig Counsell. They met the media for the first time since falling to the Dodgers in the seventh game of a National League Championship Series that couldn't have been much closer.


Cora: Chance that Betts starts at 2B 'very slim'
The chances of Red Sox star right fielder Mookie Betts starting at second base when the World Series shifts to Los Angeles for Games 3, 4 and 5 (if necessary) have been downgraded to "very slim," according to manager Alex Cora.


At 66, Melvin says he's 'open to analytics'
Doug Melvin says, he feels "a whole lot different" than he did in 2015. Back then, as Melvin moved on from the general manager's post in Milwaukee, he opined that "the job had just grown to a point that it's more suited for somebody who's younger than me." On Tuesday, after completing a callback interview for the Mets' vacant GM position, the 66-year-old Melvin edited that sentiment.


Minor MLB Transactions: 10/23/18
Rounding up the minor moves from around the baseball world… Brewers minor leaguers RHP Alec Asher, LHP Mike Zagurski and IF Nick Franklin elected free agency, the team's development department announced today. The 27-year-old Franklin – a former first-round pick of the Mariners – is the biggest name of the three, though his .214/.285/.359 career line illustrates…


Giants mourn late broadcaster Greenwald
The Giants on Tuesday announced their condolences to longtime broadcaster Hank Greenwald, who passed away on Monday from heart and kidney complications. He was 83.


Dodgers, Red Sox Set World Series Rosters
With the World Series set to kick off tonight, both teams have announced changes to their 25-man rosters. For the Dodgers, left-handed reliever Scott Alexander replaces Caleb Ferguson, the team announced. Alexander will be LA's third left-handed option out of the pen, along with 22-year-old Julio Urias and regular season starter Alex Wood. The Dodgers have shuffled between…


Free Thursday Night Football Contest On DraftKings
MLBTR is proud to present a free NFL Thursday Night Showdown contest, thanks to our partnership with DraftKings.  $10,000 in total prizes will be awarded, with over 205 places getting a share of the winnings.  Enter this free contest now!  Entries are accepted until 8:20pm ET on Thursday, October 25th. This is a sponsored post…


Twins Interviewing Finalists For Managerial Opening
We previously tracked the early stages of the Twins' managerial search in an earlier post. Now, the Twins have pared the field down to a handful (or less) of candidates, per Phil Miller of the Star Tribune. It's not yet entirely clear which names are still under consideration, but at least three are known to be…


Q&A: La Russa talks formula for Sox's success
As Game 1 of the World Series approaches, Hall of Famer Tony La Russa, who is a special assistant to Red Sox general manager Dave Dombrowski, answered questions on a wide range of topics, from his role with the club to his relationship with manager Alex Cora.


Rays Reportedly Nearing Deal With Sandy Gaston
The Rays appear to be closing in on a deal with Cuban right-hander Sandy Gaston that will pay him a $2.6MM bonus. Jorge Ebro of El Nuevo Herald (Spanish-language link) reports that the sides are already in agreement, though Marc Topkin of the Tampa Bay Times hears (Twitter link) they are still working toward a finalized deal. MLB.com's…


McGwire opts to leave Padres bench coach job
The Padres have another vacancy to fill on their coaching staff. Earlier this month, Mark McGwire informed the club that he'd be stepping down from his role as bench coach, sources confirmed Tuesday.


Mesa signings show new approach for Marlins
Signing the Mesa brothers not only adds two potentially impactful position players to the Marlins' system, it also sends a signal that the organization intends to be aggressive in the international market.


Source: Nats' coaching staff to return intact in 2019
During their first year in Washington, Nationals manager Dave Martinez and his staff endured their share of growing pains during what was a disappointing 2018 season. However, the Nats' front office insisted all year that the coaching staff was not solely to blame for the underachieving team, and they are prepared to give the coaches another chance.


We did a Sox-Dodgers draft, the No. 1 pick is ...
The fun of this World Series -- in addition to the gorgeous stadiums, historic franchises and rabid fan bases -- will be in its stars. This feels like one of those Fall Classics that we'll look back on in 30 years and marvel at how many legends played in it.


Rays strike $2.6M deal for Cuban RHP Gaston
The Rays have an agreement in place to sign 16-year-old Cuban pitching prospect Sandy Gaston, who will get a $2.6 million bonus, a source confirmed to MLB.com's Jesse Sanchez on Tuesday.


AL Notes: Eovaldi, Gaston, Castellanos, Astros
As he prepares for the World Series, Red Sox right-hander Nathan Eovaldi says he has yet to have any talks with the club regarding a deal that would keep him off of the open market, John Tomase of WEEI.com reports. The hurler says he'd "love to be back," though unsurprisingly it looks as if he'll test…


Rockies Expect Seunghwan Oh To Remain In Colorado For 2019
Recent comments from right-handed reliever Seunghwan Oh seemingly indicated he was contemplating a return to his native Korea for the 2019 season, despite being under contract with the Rockies after his option vested. The Colorado organization, though, anticipates that Oh will remain with the club, general manager Jeff Bridich tells reporters including Patrick Saunders of…


Former teammates make history as WS skippers
The 114th edition of the World Series is the first to feature two minority managers -- a fact that is not lost on the Puerto Rican-born Alex Cora or on Dave Roberts, who is half-Japanese and half-black.


The Giants have outrighted five players off of their 40-man roster, the club announced and Alex Pavlovic of NBC Sports Bay Area was among those to cover (Twitter links). The moves opened space for a handful of players to be moved back onto the roster from the 60-day DL. Four of the players to be…


Trout extension remains priority for Angels
Now that the Angels have their new manager in place, their attention could shift to another key business matter this offseason: Exploring the possibility of a contract extension for star center fielder Mike Trout.


Kershaw to make 1st Fenway start in Game 1
After Clayton Kershaw starts Game 1 of the World Series for the Dodgers on Tuesday night at Fenway Park, manager Dave Roberts said Hyun-Jin Ryu will start Game 2 on Wednesday night on the road and Walker Buehler will start Game 3 at Dodger Stadium on Friday night.


Rangers hold annual meetings without manager
The Rangers are holding their annual organizational meetings this week with the front office, professional scouts and some Minor League officials. They are doing so without a manager in place and have no plans to hire one anytime soon.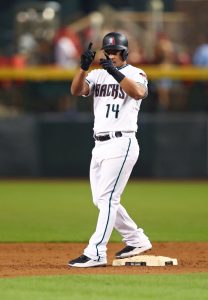 D-Backs Announce Three-Year Deal With Eduardo Escobar
The Diamondbacks have announced a new contract with infielder Eduardo Escobar, as Nick Piecoro of the Arizona Republic first reported (Twitter links). It's said to be a three-year, $21MM pact. Escobar is a client of DJ Rengifo Y Associates LLC. This news represents a fascinating turn of events just before the official onset of free agency.…


Halos launch new era with Ausmus as skipper
Brad Ausmus was in the running for at least one other managerial opening this offseason, but there was no doubt in his mind that the Angels were his preferred destination. "It was No. 1," Ausmus said.


2018-19 Market Snapshot: Right-Handed Relievers
This is the latest installment in our Market Snapshot series. We have now completed our run-down of position players and taken a look at the market for lefty relief help, which brings up the market for right-handed relievers. Teams In Need Frankly, there isn't a team in baseball that won't look at bolstering its relief corps…


7 pitches to look for in the World Series
Nothing magnifies every pitch like a World Series, and this Fall Classic features two of the best staffs in baseball. But as the Series goes on, a handful of stars figure to be the difference between who holds the Commissioner's Trophy and who circles the 2019 season for redemption. Here's a look at those pitchers -- and the signature offerings they'll employ -- that may decide the '18 World Series champion.


Sox, LA rely on starters in age of 'bullpenning'
For the Dodgers and Red Sox, the best chance to win this World Series is a formula that has been followed for many, many years: Get the absolute most and best you can from your starting pitcher, and then figure out the rest.


Mets cut GM search to three candidates
The Mets have pared their general manager search to three candidates, who will receive callback interviews this week, according to a source. Chaim Bloom, Doug Melvin and Brodie Van Wagenen are the finalists.


Series aces hope to show starters still go deep
For all of the talk about "bullpenning," and a team's relievers absorbing the majority of innings during the postseason, the clubs in the World Series have a more traditional look, hearkening back to the days when starters pitched a lot of innings, and relievers did not.


Fall Classic features groundbreaking skippers
The 114th edition of the World Series is the first to feature two minority managers -- a fact that is not lost on the Puerto Rican-born Alex Cora or on Dave Roberts, who is half-Japanese and half-black.


5 Cards facing potential crossroads in 2019
As the Cardinals prepare to construct their roster for 2019, their work entails not only building a wish list of potential additions, but also deciding which returning players still have a fit. While the fit may be obvious for some, others face an uncertain future.


Bogaerts owns leadership role in return to WS
When the players are introduced at Fenway Park prior to Game 1 of the World Series, you won't see David Ortiz. You aren't going to see Shane Victorino, Mike Napoli, Johnny Gomes or any of those other bearded, "Boston Strong" wonders either. But you will see Xander Bogaerts -- the one constant between the 2013 World Series champions and the group that is trying to win it all again.


Puig destined to shine on World Series stage
While it's impossible to predict which Yasiel Puig will show up in the World Series, what's certain is that the Dodgers' biggest personality is back on the biggest stage and you won't be able to take your eyes off him.


Yanks' Florial finds rhythm in Fall League
Estevan Florial was 1-for-23 entering Monday's Arizona Fall League Game between the Glendale Desert Dogs and the Peoria Javelinas. The Yankees' No. 2 prospect and No. 45 overall went 2-for-4 with an RBI and a run scored in a 6-2 win for Glendale -- an effort which Florial hopes turns things around.


Machado unfazed by controversy, Fenway boos
Manny Machado was offered an opportunity to apologize. Or to, you know, set the record straight. On the eve of his first World Series, that would seem to be a nice little "kick the storyline down the road" way to go.


Price gets World Series Game 2 nod
Red Sox manager Alex Cora announced on Monday that David Price will start Game 2 of the World Series on Wednesday, but the rest of the rotation is to be determined depending on usage in the first two games.


Betts prepping for 2B shift; Cora weighs options
Though Mookie Betts is generally considered to be the best right fielder in MLB, he continues to prepare for the possibility of being moved to second base when the World Series shifts to Los Angeles for Games 3-5.


Dodgers' versatility provides lineup options
Teams talk versatility, but the Dodgers can claim record-breaking versatility. They are the first team in history with three players to start at least 45 games in the infield and the outfield in the same season, according to the Elias Sports Bureau.


Kershaw to make 1st Fenway start in Game 1
Dodgers ace Clayton Kershaw will start Game 1 of the World Series against the Red Sox on Tuesday as he seeks his first championship. Manager Dave Roberts announced on Monday that Hyun-Jin Ryu will start Game 2 and Walker Buehler in Game 3.


Mets' GM Search Down To Three Finalists
The Mets' ongoing search for a general manager was narrowed to five recently, and Matt Ehalt of the New Jersey tweets that two candidates, MLB exec Kim Ng and agent Casey Close, have been eliminated from the running. MLB.com's Anthony DiComo hears similarly, tweeting that the three finalists for the post are Rays senior vice…


Umpires for 2018 World Series announced
Major League Baseball announced on Monday the umpires who have been assigned to the 2018 World Series, which is presented by YouTube TV. Ted Barrett, who is in his 21st season as a Major League Umpire, will work the Fall Classic for the fourth time, including his first as crew chief.


7 pitches to look for in the World Series
Nothing magnifies every pitch like a World Series, and this Fall Classic features two of the best staffs in baseball. But as the Series goes on, a handful of stars figure to be the difference between who holds the Commissioner's Trophy and who circles the 2019 season for redemption. Here's a look at those pitchers -- and the signature offerings they'll employ -- that may decide the '18 World Series champion.


Players choose their favorite playoff moments
Just before the start of another enthralling October, we asked a bunch of active Major Leaguers -- 85 in all, from a wide variety of teams -- for their favorite postseason moment of their lifetime.


Luhnow previews Astros' plans for offseason
Instead of participating in what would have been World Series media day at Minute Maid Park had the Astros found a way to beat the Red Sox in the American League Championship Series, president of baseball operations and general manager Jeff Luhnow and manager AJ Hinch met with the media on Monday to set the stage for what figures to be an interesting offseason.


AFL debuts MLB's 'Prospects & Expectations'
In Major League Baseball's latest effort to enhance the careers of its players, Arizona Fall Leaguers recently were treated to a morning of educational presentations and discussions as part of the sport's "Prospects & Expectations" program.


International Notes: Kikuchi, Gaston, Jimenez
It's already been reported in Japan that the Seibu Lions intend to post ace left-hander Yusei Kikuchi for Major League teams this offseason, but the pitcher himself said after his team was eliminated from the postseason that he has not yet made a firm decision (link via Jason Coskrey of the Japan Times). "Well, the season…


The Red Sox got Sale -- for this moment
This is the game -- Game 1 of the World Series -- that Chris Sale was brought to the Red Sox to pitch. This is why Dave Dombrowski, president of baseball operations for Boston, traded away as much young talent as he did to get Sale from Chicago.


Marlins announce signings of Mesa brothers
After nearly two decades of not dabbling significantly in Latin American prospects, the Marlins on Monday announced the signings of Cuban outfield prospects Victor Victor Mesa and Victor Mesa Jr., sending a signal to the industry that Miami intends to be active on the international front.


Rich histories of Sox, Dodgers intertwined often
The Red Sox and Dodgers each have a long and rich history, but there are also several ties connecting them as they prepare to play each other in the World Series for the first time since 1916.


Will the Yankees chase Machado this winter?
With the Yankees idle for their ninth consecutive World Series, the framework for their offseason will be constructed beginning on Monday, as general manager Brian Cashman prepares to head the club's annual professional scouting meetings at Yankee Stadium.


Quick Hits: Roberts, Brewers, Harvey
Some rumblings from around baseball as we get ready for the World Series to begin on Tuesday… The Dodgers' club option on Dave Roberts for 2019 is worth $1.1MM, according to USA Today's Bob Nightengale (Twitter link).  The full financial terms of Roberts' three-year contract aren't known, though the manager is set to earn a…


Recapping the past week's worth of original content from the MLB Trade Rumors writing team… MLBTR's annual Offseason Outlook series is underway, as we deliver a team-by-team analysis of what moves could be on the horizon this winter.  Tim Dierkes got things started with a preview of the Cubs' offseason, and Mark Polishuk contributed outlooks…


Looking For A Match In A Justin Smoak Trade
The last two offseasons haven't been too kind to the classic first base-only slugger, as teams have been increasingly less keen to spend their free agent dollars or trade assets on a player who is only viable at a single position (and the easiest position on the field to fill, at that).  As Jeff Todd…


AL Central Notes: Diaz, Kipnis, Tigers, White Sox
The latest buzz from around the AL Central… In a look at what the Indians' lineup could look like in 2019, Terry Pluto of the Cleveland Plain Dealer writes that "serious consideration" is being given to the idea of deploying Yandy Diaz as a regular third baseman.  With Diaz at the hot corner, All-Star Jose…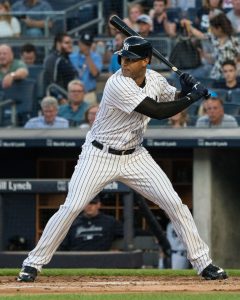 Extension Candidate: Aaron Hicks
In shortstop Didi Gregorius and center fielder Aaron Hicks, the Yankees entered the offseason with two obvious extension candidates among their position players. But since the Yankees' season ended Oct. 9, when the Red Sox bounced them from the ALDS, Gregorius underwent Tommy John surgery on his right elbow. Consequently, Gregorius will miss a large…


Dodgers weighing Kershaw, Hill for G1 starter
The Dodgers on Sunday were not quite ready to commit the World Series Game 1 start to Clayton Kershaw, who made the final 15 pitches in Saturday night's pennant clincher against Milwaukee.


Red Sox Notes: Betts, JDM, Wright, Kimbrel
The latest on the American League champions: When the Red Sox go on the road to face the Dodgers in the World Series, they could feature an interesting defensive alignment. Speaking with reporters (including Jason Mastrodonato of the Boston Herald) on Saturday, Cora revealed that the Red Sox are considering deploying right fielder Mookie Betts…


Nine comeback stories for this Fall Classic
If someone had tapped Dodgers first baseman Max Muncy on the shoulder a year ago and told him he would be playing in the 2018 World Series, he might have needed a minute to get his mind around those words. Even his dreams hadn't gotten that far. Same thing with Red Sox reliever Ryan Brasier.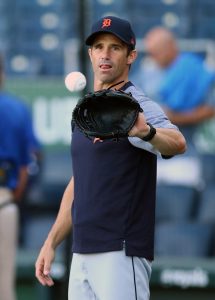 Angels Hire Brad Ausmus As Manager
12:29pm: Ausmus received a three-year contract, according to Maria Guardado of MLB.com. 12:02pm: The Angels announced that they've named Brad Ausmus their new manager. Ausmus spent the 2018 season working as a special assistant to Angels general manager Billy Eppler. "Over the past few weeks, our baseball operations personnel sat down with numerous highly-qualified and…


Fun facts about only other Red Sox-Dodgers WS
The Dodgers have won the National League pennant 23 times. The Red Sox have been kings of the American League 14 times. But surprisingly, for all that success, the teams have only met once before in the World Series -- all the way back in 1916, when the Red Sox beat the Brooklyn Robins (named after manager Wilbert Robinson) in five games for the club's fourth championship.


Joe Girardi Withdraws From Rangers' Managerial Search
Joe Girardi has withdrawn from the Rangers' managerial search, as Jon Heyman of Fancred reports and as Jeff Wilson of the Star-Telgram first suggested. As of now, it appears Girardi will work as a television analyst for the second straight season in 2019. Girardi previously exited the derby to become the Reds' next manager, which…


MLB's Breakthrough Series advances at WWBA
All week, Major League Baseball's Breakthrough Series squad has shown it can compete with the elite at Perfect Game's talent-rich World Wood Bat Association (WWBA) World Championship at the Roger Dean Chevrolet Stadium complex.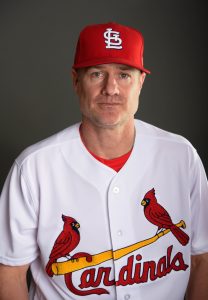 Reds Hire David Bell As Manager
The Reds have hired Giants vice president of player development David Bell as their manager, per a team announcement. Cincinnati awarded Bell a three-year contract with a club option for 2022. The move represents a homecoming for the 46-year-old Bell, a Cincinnati native with deep ties to the organization. Bell's grandfather (Gus Bell), father (Buddy…


Poll: Who Will Win The World Series?
For the first time since Magic Johnson and Larry Bird squared off in the 1980s, Los Angeles and Boston will battle for supremacy in a professional sport. This time, instead of the Lakers and Celtics fighting for an NBA championship, it'll be the Dodgers (whom Johnson now owns a piece of) and Red Sox vying…


Rangers' list of managerial candidates narrows
The Rangers pool of managerial candidates is being reduced as the Reds announced the hiring of David Bell as their new manager. An industry source said Joe Girardi is no longer in the running for the Rangers position and is expected to remain with the MLB Network.


Brad Ausmus named Angels manager
The Angels completed their first managerial search in nearly two decades on Sunday, announcing that Brad Ausmus has been hired to replace Mike Scioscia.


Red Sox-Dodgers Series is the one we deserve
So we get Boston against Los Angeles now in the World Series, the way it used to be the Celtics against the Lakers in all those NBA Finals. But this time, it's Boston against Los Angeles for the first time in baseball history. If you want to go through all the reasons why the World Series we've got is the one we should have been rooting for all along, start there.


Reds name David Bell new manager
Completing a process that began in April, the Reds named David Bell as their new manager on Sunday and signed him to a three-year contract that runs through the 2021 season with a club option for 2022.


AL East Notes: Yanks, Happ, Sabathia, O's, Gaston, Rays, Baldelli
A few notes from the AL East: With the offseason now underway for the Yankees, general manager Brian Cashman discussed several topics of interest in an interview with Mike Francesa of WFAN earlier this week. As free agency and trade season approach, the Yankees are expected to be among the majors' most active teams in…


Machado shakes off boos, sparks LA rally
Manny Machado loved every second of this. The supremely talented shortstop-turned-villain in the National League Championship Series capped his often-controversial series with the last laugh in a 5-1 victory over the Brewers in Game 7 on Saturday night at Miller Park.


For Crew, Game 7 not an end but a beginning
One of the most memorable of the 50 seasons in franchise history ended on Saturday short of the goal on Saturday with a loss to the Dodgers in Game 7 of the NLCS. For the Dodgers, it's on to the World Series. For the Brewers, it's wait 'til next year -- and they think they will be pretty good again next year.


5 key storylines for the 2018 World Series
The World Series is finally set, and what a showdown: Red Sox vs. Dodgers -- a 108-win Boston team that was MLB's best team in the regular season against a Los Angeles squad returning to the World Series for a second straight season after falling just short in Game 7 a year ago. If we're lucky, this Fall Classic will be exactly that -- a classic. But before the World Series kicks off on Tuesday in Boston, here are five key storylines to watch.


Crew's thrilling run ends in heartbreak in G7
The Brewers' World Series hopes turned on two line drives. One was caught. One was not. And because of those outcomes -- a Christian Yelich drive that found Chris Taylor's glove at the warning track in the fifth inning before a laser beam of a three-run home run for Yasiel Puig in the sixth -- a surprising season that carried a Milwaukee team two years removed from rebuilding to within one victory of the Fall Classic came to a close. The 2018 Brewers went down with a 5-1 loss to the Dodgers in G


Dodgers relievers combined to post a 1.45 ERA over 31 innings to earn the title of Bullpen of the Week presented by The Hartford for the 2018 League Championship Series round of the postseason.


Rookie Buehler delivers with 7 K's in NLCS G7
The Dodgers punched a ticket to their second straight World Series on Saturday night, with Walker Buehler playing a big role in their 5-1 win over the Brewers in Game 7 of the National League Championship Series at Miller Park.


LA wins NL, setting up titanic WS with Red Sox
With rookie starter Walker Buehler poised under pressure, Cody Bellinger and Yasiel Puig launching crowd-silencing homers at Miller Park and Chris Taylor pulling off a sensational catch in left field, the Dodgers eliminated the Brewers in Game 7 of the NL Championship Series, 5-1, on Saturday and will play the Red Sox in the World Series starting Tuesday night in Boston.


Taylor robs Crew of tying run with must-see grab
Chris Taylor had never played the outfield before last season, but the man sure can catch a fly ball. He started Game 7 of the National League Championship Series at second base, but he moved to left field in the third inning before making a momentum-killing catch on the warning track in left-center field to end the fifth on Saturday at Miller Park.


Bellinger's turnaround results in NLCS MVP honor
A career .160 postseason hitter at the start of this seven-game set, Bellinger left it an MVP. The Dodgers outfielder was named Most Valuable Player of the NLCS after Los Angeles clinched its second straight World Series berth Saturday.


Cafardo's Latest: Corbin, Eovaldi, Pomeranz, O's, Nats
The Yankees (previously reported), Dodgers, Giants and Braves are among the teams that are expected to "show a lot of interest" in left-hander Patrick Corbin once free agency starts, Nick Cafardo of the Boston Globe writes. The 29-year-old Corbin is coming off a career season at the perfect time, having logged a 3.15 ERA/2.47 FIP…


Sox, Dodgers wait 102 years for Series rematch
The Red Sox and Dodgers are storied franchises on opposite coasts that have long and rich histories. It's somewhat surprising that they haven't met in a World Series in 102 years -- it was back in 1916 that the Red Sox defeated the Brooklyn Robins in five games for Boston's fourth World Series title.