Brewers could eye upgrade with catcher Ramos
Brewers officials had what a baseball source characterized as a "very good" meeting on Monday with free-agent catcher Wilson Ramos, who is on hand with his representatives at the Winter Meetings to meet with teams.


Top names to watch ahead of the Rule 5 Draft
Teams don't typically start bearing down on the Rule 5 Draft until later on in the Winter Meetings, with things not really heating up before Wednesday. As the buzz begins to build, we'll update the list of players who could be picked in the Major League phase.


Nationals explore possibility of Roark trade
Even after signing the market's top free-agent pitcher in left-hander Patrick Corbin, improving their rotation depth is still a priority for the Nationals this offseason. And yet, they have had discussions about potentially trading away one of their starters.


Expect a more hands-on Maddon next season
On Tuesday at the Winter Meetings, Cubs manager Joe Maddon brushed aside the fact that the team has put talks of an extension on hold, and chose instead to steer the focus on the task at hand. That includes, in Maddon's view, getting back to his coaching roots in the season ahead.


Texas trades for Wisdom in deal with Cards
The Rangers acquired third baseman Patrick Wisdom from the Cardinals on Tuesday for utility man Drew Robinson in a trade involving two guys who were blocked on the depth chart by their former team.


Pirates exploring the use of an opener in '19
Shortly after completing the trade that sent right-hander Ivan Nova to the White Sox, Pirates general manager Neal Huntington acknowledged that Pittsburgh has discussed the possibility of filling his rotation spot with an "opener" and an innings-eating "follower," a strategy that turned out to be surprisingly successful for the Rays last season.


Goldschmidt trade emotional for Lovullo
Paul Goldschmidt was traded last week to the Cardinals for pitcher Luke Weaver, catcher Carson Kelly, Minor League infielder Andy Young and a 2019 Competitive Balance Round B pick. Torey Lovullo understood the reasoning behind the trade and was fully supportive of the decision by the time it was made.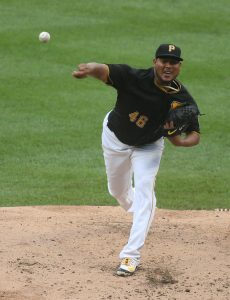 White Sox To Acquire Ivan Nova
12:10pm: The Pirates will receive a "young pitcher" and an unstated amount of international bonus pool availability, per Jon Heyman of Fanced (via Twitter). 10:55am: The White Sox have struck a deal with the Pirates to acquire righty Ivan Nova, according to Ken Rosenthal and Robert Murray of The Athletic (via Twitter). The return is not yet…


Marlins Outright Yadiel Rivera, Brett Graves
The Marlins have outrighted infielder Yadiel Rivera and righty Brett Graves, according to Wells Dusenbury of the Sun-Sentinel (via Twitter). That creates two 40-man roster openings in advance of the Rule 5 draft. Rivera, 26, got his first extended look at the MLB level last year, but managed only a .173/.269/.216 batting line in 160…


Preller unlikely to part with top prospects
Who, exactly, is untouchable from the Padres' loaded, top-ranked farm system? It's a system headlined by Fernando Tatis Jr., a budding star at shortstop, and featuring 10 players in MLB Pipeline's Top 100. You better believe rival general managers are calling to ask about A.J. Preller's prospects.


Source: Reds ask Braves about Ender Inciarte
Reds executives have been reaching out to many clubs and agents to make acquisitions. A source told MLB.com on Tuesday that those efforts included speaking to the Braves about trading for Ender Inciarte.


O's in position to steal talent in Rule 5 Draft
When most teams are packing their bags and filing into airport cabs, the Orioles expect to be most active this week. While the Rule 5 Draft can fade into the Winter Meetings periphery for some clubs, for Baltimore, the annual auction offers a low-risk opportunity to add talent to a roster that currently has few determined roles.


It has seemed for the past few days that veteran lefty J.A. Happ could be the next domino to fall in the starting pitching market, and there are signs this morning that talks are advancing. Bob Nightengale of USA Today tweets that Happ's market is "heating up," while Jeff Passan of Yahoo Sports reports on…


Yankees "Open To Moving" Miguel Andujar
The Yankees are "open to moving" young third baseman Miguel Andujar in a trade, according to Ken Rosenthal and Robert Murray of The Athletic (Twitter link). Whether there's a particularly likely path to that occurring remains to be seen. It has long been presumed that the New York organization would be open to considering trade…


Wright advising Mets' brain trust at Meetings
David Wright has found a new role, at least temporarily, now that his playing days are done. Wright is at this year's Winter Meetings on the invitation of general manager Brodie Van Wagenen, who asked the longtime third baseman to attend as a sounding board for the front office.


Ketel Marte Hires Wasserman Agency
Diamondbacks infielder Ketel Marte has hired Wasseman Media Group, according to Robert Murray of The Athletic (Twitter link). He'll be joined there by Yankees pitching prospect Domingo Acevedo, with both moves now reflected in MLBTR's Agency Database. Marte's move comes less than a year after he inked a new deal with the Diamondbacks. He's under…


B.A.T. breakfast filled with feelings of gratitude
Thinking back on a tough period in his life, Chris Lessner is filled with gratitude on many levels. On Tuesday morning at the Winter Meetings, the trainer of the Arizona Rookie League Athletics told his story at the Baseball Assistance Team Breakfast.


White Sox-Pirates trade: Nova headed to Chicago
Ivan Nova is headed to the White Sox. Chicago is acquiring the veteran right-hander in a trade with the Pirates on Tuesday. The Bucs received right-hander Yordi Rosario and $500,000 in international bonus pool money.


Player Rumors: Realmuto, Gonzalez, Roark
The Marlins are downplaying rumors of a potential 3-team swap that would send catcher J.T. Realmuto to the Mets, per USA Today's Bob Nightengale (via Twitter). The Yankees would also be included in this hypothetical blockbuster, but the Marlins aren't lending much credence to the idea. They do plan to move Realmuto, it seems, and…


Payroll Notes: Astros, Indians, Cubs
The Astros began last season with a team-record $182MM payroll, the fifth-highest mark in the league, but after falling short of their bid to repeat as World Series champs, there's a possibility that payroll could rise even higher by the start of 2019, according to MLB.com's Brian McTaggart. They won't extend beyond the luxury tax…


Retirement/Comeback Notes: Masterson, Wilhelmsen, G. Soto
A look at the latest official retirement announcements from around the game, plus a potential comeback . . . Pitcher Justin Masterson, 33, is officially retired, per his agent Randy Rowley (Twitter link via Fancred's Jon Heyman).  Masterson, who came up with the Red Sox, was a rotation stalwart for the Indians over the early…


NL Notes & Rumors: Mets, Realmuto, Dodgers, Diamondbacks, K. Marte, Lamb, Fowler
Though earlier reports suggested the Mets' pursuit of catcher J.T. Realmuto was a "long shot," MLB.com's Joe Frisaro tweets that the team is "considered" one of only three teams (with the other two not yet known) "in the mix" for the 27-year-old.  The whirlwind of activity surrounding the star backstop, at this point, seems matched…


Giants Notes: Zaidi, Outfield, Strickland, Payroll
Newly-christened Giants President of Baseball Operations Farhan Zaidi enters his first offseason by the bay with a difficult task at hand: overhaul a hole-ridden roster littered with fallen stars still cashing huge paychecks. His work may begin in the outfield, where the team expects to add "at least two more" players before pitchers and catchers…


Catching Notes: Ramos, Lucroy, A's, Herrmann, Vogt
While rumors about J.T. Realmuto continue to dominate the catching market, we've already seen such notable backstops as Yan Gomes, Kurt Suzuki, and Brian McCann switch teams this offseason.  Here's the latest on some other catchers…. The Athletics have checked in with Wilson Ramos, Susan Slusser of the San Francisco Chronicle reports, as the club…


AL East Notes: Rays, Red Sox, Martin, Giles, Jays
Rays manager Kevin Cash confirmed that his team will again use the "opener" strategy in 2019, telling Marc Topkin of the Tampa Bay Times and other reporters that openers will "start" at least twice during every turn in the rotation.  AL Cy Young Award winner Blake Snell and right-hander Tyler Glasnow are currently projected as…


Mets, Yankees, Marlins In Talks On Three-Team Deal
11:04pm: The Yankees are "pushing hard" to swing a deal with the Mets, and are interested in Mets pitchers other than only Syndergaard, according to Andy Martino (Twitter links). 10:02pm: The Mets, Yankees, and Marlins have discussed a three-team trade that would see J.T. Realmuto end up on the Mets' roster, The Athletic's Ken Rosenthal…


Minor MLB Transactions: 12/10/18
Rounding up the latest minor league deals…. The Mariners have signed catcher Jose Lobaton to a minor league deal, as per the Mariners Minors Twitter feed.  Lobaton will earn $1MM if he makes Seattle's big league roster, MassLive.com's Chris Cotillo adds, and the catcher will invited to the team's Major League spring camp.  Lobaton amassed…


Trade Rumors: Rockies, Santana, Castellanos, Jays, Pirates, Realmuto
Before the Phillies traded Carlos Santana to the Mariners as part of the Jean Segura deal, Rockies GM Jeff Bridich told reporters (including The Athletic's Nick Groke and Patrick Saunders of the Denver Post) that his team had also been in talks about the veteran first baseman.  We heard this morning that Colorado was likely…


Brewers Notes: Murphy, Moustakas, Kikuchi, Miley
The Brewers have interest in signing Daniel Murphy to address their second base hole, while the team has also had talks about re-signing Mike Moustakas for third base, The Athletic's Robert Murray reports (subscription required).  Signing Murphy would perhaps be the cleaner fit, as it would allow Travis Shaw to remain at his ideal third…


Nationals Notes: Rendon, Harper, First Base
The Nationals have made multiple extension offers to third baseman Anthony Rendon, GM Mike Rizzo told reporters (including Dan Kolko of MASNsports.com), with Rizzo noting that both sides have interest in a long-term deal.  Rendon is entering the final year of his contract, and he put himself in line for a major payday after his…


NL East Notes: Ramos, Hernandez, Happ, Braves, Folty, Mattingly
The Mets had a meeting with Wilson Ramos and his camp today, the New York Post's Mike Puma reports (via Twitter).  While the Mets are known to be exploring the catching market, some reports characterized Ramos as something of a secondary target for New York due to concerns about his lengthy injury history and his…


Giants not done adding to outfield corps
President of baseball operations Farhan Zaidi's first move of the Winter Meetings yielded the Giants a young outfielder, and Zaidi will continue to be active in that market as he seeks to further bolster the club's outfield depth this offseason.


Rangers keeping open mind in trade talks
The possibility of the Rangers being a trade match with the Braves involving outfielder Nomar Mazara may be the most intriguing development for Texas at the Winter Meetings on Monday.


Winter Meetings Day 1: News from all 30 clubs
The 2018 Winter Meetings in Las Vegas opened without any major moves getting done, but the rumor mill was in full effect with significant developments for a number of marquee names.


Rays, Indians Discussed Trade Of Edwin Encarnacion, Yandy Diaz
The Rays have had trade discussions with the Indians about first baseman/DH Edwin Encarnacion and infielder Yandy Diaz, Paul Hoynes of the Cleveland Plain Dealer reports (two links).  It isn't clear if these talks extended beyond anything but due diligence, and Hoynes said that if such a deal is explored, it might come as a…


Model manager: Cash's evolution impressive
Two of his coaches just got managing gigs. Rays manager Kevin Cash takes no credit for this. On the other hand, why not? He has become the prototype for what every team is seeking in a manager.


Cashman On Harper, Machado, Gregorius, Kikuchi, Corbin
Yankees GM Brian Cashman met with media today in Las Vegas and provided updates on several potential targets (and non-targets) on the team's radar this winter.  The highlights…. Cashman gave his firmest answer yet about the Yankees' apparent lack of interest in Bryce Harper, telling reporters (including Newsday's David Lennon and the New York Post's…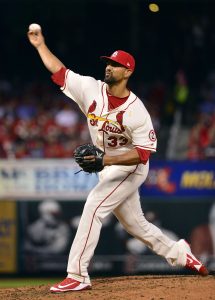 6:08PM: The Tigers have officially announced the signing. 2:58PM: The Tigers have struck a deal with free agent righty Tyson Ross, according to Ken Rosenthal of The Athletic (Twitter link). It's a $5.75MM guarantee over a single season, with a readily achievable roster bonus that would add another $250K, per Jeff Passan of Yahoo Sports…


Cardinals expect Fowler to reclaim spot in RF
While the Cardinals spent Day 1 of the Winter Meetings canvassing the trade and free-agent markets for bullpen and bench additions, they are notably underprioritizing the search for additional outfield options. Instead, they remain ready to give Dexter Fowler a shot at redemption.


How a Kluber trade could stir up Hot Stove
When a perennial Cy Young Award candidate is available on the trade market, he becomes a hub of activity in the baseball industry. Right now, that describes Indians ace Corey Kluber.


O's narrow managerial candidate pool to 6
Orioles general manager Mike Elias arrived in Las Vegas for this year's Winter Meetings with a skeletal crew, and shortly after admitted "there is something missing" without a manager in tow. Though he'll likely fly back east without one, that's set to change shortly now that the interview phase of the O's managerial search is complete.


Mariners interested in Japanese star lefty Kikuchi
While Jerry Dipoto insists nothing was brewing on the trade front Monday for the Mariners after what he called one of the most boring first 36 hours of any Winter Meetings he's attended, the energetic general manager acknowledged Seattle is definitely interested in Japanese free-agent pitcher Yusei Kikuchi.


Cubs seek clubhouse leaders as Meetings open
In this era of advanced analytics, there are still intangible elements that even the most forward-thinking teams value. Attempting to quantify the impact of veteran leadership is an impossibility, but plenty of clubs still believe that quality can affect a clubhouse and an organization's culture.


Why Huntington turned down Giants' big offer
The Giants reached out to Bucs general manager Neal Huntington earlier this offseason and expressed interest in making him their new president of baseball operations, but Huntington turned down the opportunity to pursue that job. Why not take it?


Mets engage Marlins -- and Yanks -- on Realmuto
For teams seeking catching help, there is J.T. Realmuto and there is everybody else. On the first day of the Winter Meetings, Mets general manager Brodie Van Wagenen remained engaged with the Marlins on Realmuto, a source confirmed, discussing scenarios as unorthodox as a three-way deal that would send Noah Syndergaard to the Yankees.


Pitching Notes: Gray, Reds, Ray, Santana, Pomeranz, Nationals, Eovaldi
While the Yankees have broadcast far and wide their intentions to deal Sonny Gray, they are still shopping for the best possible return, Joel Sherman of the New York Post tweets. The Yanks are said to have tried to pry loose well-regarded prospect Taylor Trammell from the Reds, though unsurprisingly that effort proved unsuccessful. Sherman suggests that…


A's flexible as Davis extension talks continue
The A's remain in ongoing conversations with Khris Davis' reps regarding a contract extension, according to general manager David Forst, but they must first take care of other business.


Phillies not looking to deal Hernandez
Second basemen have flooded the free-agent market, so if the Phillies wanted to trade Cesar Hernandez, they might not get much in return. And it does not sound like Phillies general manager Matt Klentak wants to trade Hernandez, anyway.


Twins Interested In Nelson Cruz, Wilson Ramos, Joakim Soria, Trevor Cahill
The Twins are looking into a number of available free agents, perhaps most notably slugger Nelson Cruz.  Fancred Sports' Jon Heyman was the first to report Minnesota's interest in Cruz, with MLB.com's Do-Hyoung Park noting that there is indeed "mutual interest" between the two parties (both links to Twitter).  Beyond Cruz, the Twins are also…


White Sox willing to spend for improvements
The answer from White Sox executive vice president Ken Williams regarding the time being right for the organization's high-end rebuild to get more aggressive required just one word uttered with great confidence.


Blue Jays aren't looking to part with starters
Blue Jays general manager Ross Atkins claims Marcus Stroman and Aaron Sanchez are generating "significant interest" from rival teams, but it remains "unlikely" either starter will be dealt this offseason.


Angels focused on trades more than free agents
The first day of the Winter Meetings saw the Angels lose former first-round pick Kaleb Cowart to the Mariners via waivers, but general manager Billy Eppler said he's been making progress talking with other clubs about potential trades.


Bucs listening, but expect to hold onto Cervelli
The Pirates almost always listen to offers for players nearing free agency, so it comes as no surprise that they are at least willing to consider trading someone as important to their team as catcher Francisco Cervelli.


Infield Notes: Machado, Realmuto, LeMahieu, Merrifield, Hernandez, Arenado
Superstar free agent Manny Machado will not meet with teams in Las Vegas, it seems, preferring instead to visit suitors at their home parks, according to Bob Nightengale of USA Today (via Twitter). That would seem to suggest that his market won't take off over the week to come, though surely there'll be relevant developments.…


Keeping track of traded prospects
To help keep track of all the prospects who have been traded since the offseason began, here is a running tally of those on club Top 30 lists who have changed hands.


Padres seek long-term value in trade targets
If there's been a big name mentioned as a trade candidate this winter, he's probably already been linked to the Padres. But there's an important caveat in the club's trade talks this winter: years of control.


Ohtani progressing well from TJ surgery
Shohei Ohtani is making good progress with his rehab from Tommy John surgery, but it's too early to come up with a hitting plan for his 2019 season, Angels general manager Billy Eppler said Monday at the Winter Meetings.


'Highest honor': Baines, Smith relish HOF call
Harold Baines was surrounded by two of the men who'd guided, managed and mentored him: White Sox owner Jerry Reinsdorf and Hall of Fame manager Tony La Russa. "Our friendship goes further than the game of baseball," Baines said.


Top names to watch ahead of the Rule 5 Draft
Teams don't typically start bearing down on the Rule 5 Draft until later on in the Winter Meetings, with things not really heating up before Wednesday. As the buzz begins to build, we'll update the list of players who could be picked in the Major League phase.


'Right situation' could see Astros add payroll
Despite having 10 players eligible for arbitration and due raises and four others set to earn more than $10 million annually, the Astros have enough flexibility to add payroll this winter in their pursuit of a starting pitcher and another bat.


Tigers get Tyson Ross on 1-year deal
The Tigers are not wasting time in their search for the next Mike Fiers. They added veteran Tyson Ross to their staff by agreeing to terms on a one-year deal with the right-handed swingman, the club announced Monday.


Sale throwing, expected to be a full go in '19
Though the Red Sox never gave much explanation about the root of the left shoulder inflammation that kept Chris Sale on the disabled list for most of August and a big chunk of September, the ace isn't considered to be a health concern this winter.


Dombrowski not looking to spend big on closer
As the Red Sox plot their various possibilities at the closing position for next season, the one thing that seems all but certain is that free agent Craig Kimbrel will be pitching the ninth inning elsewhere.


Trio of A's giving back to Oakland-area families
Matt Chapman, Marcus Semien and Stephen Piscotty are serving as goodwill ambassadors during the A's Week of Giving, which is designed to brighten the lives of youths and their families in and around Oakland.


Yanks end Harper bid, continue Machado talks
For years, this epic free-agent class has permitted a fantasy scenario in which Bryce Harper and Manny Machado landed in pinstripes. In reality, Brian Cashman said that there is not room for both mega-stars, and New York has made its selection.


Braves open to trade 'conversation' at Meetings
As Braves general manager Alex Anthopoulos explores ways to add a front-line starting pitcher, an outfielder and bullpen depth, it appears unlikely he'll deal any of his Major League assets.


Woodward says Leclerc's role likely expanding
As the Rangers discuss the best way to build a pitching staff, they remain undecided on what will be the best role for Jose Leclerc going forward. It is not automatic that he will return as closer in 2019. Nothing is automatic these days when it comes to the Rangers' pitching staff.


Central Trade Rumblings: Indians Starters, Castellanos, Cervelli
Let's round up the latest trade chatter from the central divisions: Though he had previously indicated otherwise, Ken Rosenthal of The Athletic reports (subscription link) that the Indians are exploring trade scenarios in which they'd dump a big contract (likely Jason Kipnis or Edwin Encarnacion) while dealing a top starter (Corey Kluber or Trevor Bauer). Clearly, the Indians…


The Mariners have claimed infielder Kaleb Cowart off waivers from the Angels. Notably, the Seattle club referred to Cowart as an infielder and right-handed pitcher in its announcement. He'll "come to Spring Training as a two-way player," per the M's. Cowart has never taken the hill as a professional. But he was an accomplished high-school…


Rizzo not ruling out reunion with Harper
Despite the comments from Nationals owner Mark Lerner last week that he believed Bryce Harper has "moved on," general manager Mike Rizzo was still not ready to rule out a potential reunion with Harper.


The Rangers have claimed infielder Carlos Asuaje off waivers from the Padres, per a club announcement. The San Diego club had designated Asuaje for assignment recently. It's unclear just how Asuaje will fit into the Texas roster mix. He's mostly a second baseman by trade, a position that ought to be filled regularly by Rougned…


Cardinals Claim Ryan Meisinger
The Cardinals have claimed righty reliever Ryan Meisinger off waivers from the Orioles, the Baltimore club announced. Meisinger, 24, cracked the bigs last year for the first time and surrendered six long balls in 21 innings. Still, he has turned in some intriguing numbers at times in the minors. Last year, for instance, he worked…


The Orioles announced today that they have claimed third baseman Rio Ruiz off waivers from the Braves. Ruiz becomes the first 40-man roster addition of new O's GM Mike Elias. Ruiz, 24, signed for well over the slot value after the Astros selected him in the fourth round of the 2012 draft — their first…


Analytics' rise a leading topic at Winter Meetings
Major League Baseball's Department of Diversity and Inclusion launched its "Unfiltered" series at the Winter Meetings on Monday with a discussion of analytics -- a fitting place to start because it's an area of explosive growth, with teams loading up on smart people from all backgrounds to attack old problems in new ways.


Edgar in spotlight as Hall momentum builds
While early returns are most promising for Edgar Martinez in his final push for being elected into the National Baseball Hall of Fame this winter, the Mariners aren't taking anything for granted.


The Reds have acquired lefty Robby Scott from the Red Sox, per Ken Rosenthal of The Athletic (via Twitter). It seems to be a straight waiver claim, MLB.com's Mark Feinsand tweets. Scott, 29, was a useful contributor in Boston in 2017, when he worked to a 3.79 ERA in 35 2/3 innings. He carried 7.8 K/9…


Free Agent Chatter: Nats/Harper, Miller, Kelly, Keuchel, Halos
So, are the Nationals really out of the picture for Bryce Harper, as owner Mark Lerner strongly suggested recently? Barry Svrluga of the Washington Post writes that he's not yet sold that the incumbent Nats have completely bid adieu to their franchise-defining star. It's an interesting read for fans to contemplate as Harper's still-uncertain market continues…


Moore: Merrifield staying put with KC
As the Royals draw near to signing free agent Billy Hamilton, a move that could be completed Tuesday or Wednesday, what's next for Kansas City? Well, it likely won't be dealing Whit Merrifield, who led the Major Leagues in hits (192) and stolen bases (45) last season.


Eovaldi: Sox were at 'top of my list of teams'
When one of Nathan Eovaldi's representatives called him last week to tell him that his four-year, $68 million contract with the Red Sox was complete, the World Series hero was on the roof of his Texas home installing his Christmas lights.


11:06am: MLB.com's Mark Sheldon hears that, to the contrary, the Reds are "not actively looking to trade" Gennett. (Twitter link). 9:54am: The Reds are interested in dealing second baseman Scooter Gennett, according to Ken Rosenthal of The Athletic (subscription link). Though the hometown hero had previously seemed to profile as an extension candidate, Cincinnati president of baseball…


Royals "Close" To Deal With Billy Hamilton
11:02am: Saying that Hamilton's defensive abilities make for a good fit at spacious Kauffman Stadium, Royals GM Dayton Moore confirmed that the club is down the line in talks with the free agent in an interview with MLB Network Radio on Sirius XM (Twitter link). It's believed that the sides are just hammering out incentive…


NL West Notes: Dodgers, LeMahieu, Belt, Greinke
Entering the Winter Meetings with a wide variety of potential moves under consideration, the Dodgers will "in all likelihood" move an existing starter via trade, ESPN.com's Alden Gonzalez writes. Just what the might look like isn't yet clear, but the club's numerous options will surely hold appeal to rivals. To be sure, the Dodgers have found ways…


Bridich: Arenado not out of Rockies' budget
Rockies general manager Jeff Bridich told MLB Network on Monday that the club could pay a contract north of $200 million to third baseman Nolan Arenado and still afford to field a competitive club.


In final year of contract, Mattingly looks ahead
From the bottom up, the Marlins are committed to building for the future. But beyond the 2019 season, the status of manager Don Mattingly remains unclear. Mattingly is entering the fourth and final year of his contract, and there are no current negotiations for an extension.


Mariners plan to try Cowart as 2-way player
General manager Jerry Dipoto's first move of the Winter Meetings on Monday didn't create many waves as the Mariners claimed infielder Kaleb Cowart off waivers from the Angels. But Cowart's position -- with Seattle announcing he'll be given a shot at pitching as a two-way player -- raised a few eyebrows.


MLB auction offers once-in-a-lifetime experiences
In what has become an annual tradition, Major League Baseball and its 30 clubs have organized a charity auction during the Winter Meetings, the seventh consecutive year the benefit has taken place.


Yankees Rumors: Happ, Britton, Warren
The latest from the Bronx, courtesy of George A. King III of the New York Post: After losing out on Patrick Corbin and Nathan Eovaldi in free agency, the Yankees are reportedly considering re-signing left-hander J.A. Happ. However, there's "industry buzz" that the team wants Happ back on a two-year deal, while he's seeking a…