Castellanos staying cool during trade rumors
Sunday marked Nicholas Castellanos' first comments on his trade situation since the end of last season. He was clearly on the trade market then, just as he is now amidst the Tigers' ongoing rebuild.


TCU defeats Vandy in MLB4 tournament finale
Brandon Williamson -- who opted to go to TCU rather than signing with the Brewers after being picked in the 36th round of the 2018 MLB Draft -- led the Horned Frogs to a 10-2 win over No. 1 Vanderbilt on Sunday afternoon.


Source: Mets ink SS Hechavarria to Minors deal
The Mets have signed veteran shortstop Adeiny Hechavarria to a Minor League contract with an invite to the club's Major League Spring Training, MLB.com has learned. The deal, which the club has not announced, is pending a completed physical on Monday.


The Mets have signed infielder Adeiny Hechavarria to a minor league contract with an invitation to big league camp, Tim Healey of Newsday reports. Hechavarria will have a chance to continue in New York, where he spent the last month of the 2018 season after the Yankees acquired him from the Pirates. As a member…


Cardinals may split up closer duties
This is the final piece of a six-part Around the Horn series in which MLB.com is taking a position-by-position look at the Cardinals' projected starters and backup options heading into the 2019 season. After examining the position players and starting rotation, let's close with the bullpen.


'I feel like I'm 25': Cano joins Mets at camp
The list of position players productive at age 36 is small. At 37, even smaller. Beyond that, infinitesimal. So it was worth noting that shortly after Robinson Cano showed up to the Mets' complex in Port St. Lucie for the first time, he stated: "I feel like I'm 25."


Padres Reportedly Offering $250MM Or More To Machado, Harper
8:08PM: Rival general managers have been told that Machado's offer from the Padres is at least eight years/$240MM with deferred money, according to USA Today's Bob Nightengale (Twitter links).  Some other GMs, however, have been told that Machado has been offered $280MM. 7:42PM: The Padres are thought to have offered Manny Machado a contract in…


Robert learning ropes from Abreu, Moncada
The clubhouse locker belonging to Luis Robert is nestled between Jose Abreu and Yoan Moncada. It's a trio with the potential to stand at the center of White Sox championship contention in the not-too-distant future.


Pujols healthy, aims to be ready Opening Day
Angels first baseman Albert Pujols met with the media for the first time this spring on Sunday and said he's fully healthy after undergoing arthroscopic surgery on his left knee in late August.


Brewers To Re-Sign Mike Moustakas
4:38pm: There's a mutual option for 2020, Mark Feinsand of MLB.com reports. 4:23pm: Moustakas will earn $10MM in 2019, Bob Nightengale of USA Today tweets. His deal is "likely" to include a mutual option, Heyman adds. 4:04pm: The Brewers and free-agent third baseman Mike Moustakas have reached a one-year agreement, pending a physical, Ken Rosenthal…


Source: Moustakas agrees to return to Brewers
Free-agent slugger Mike Moustakas has agreed to return to the Brewers on a one-year contract, pending a physical, MLB Network insider Ken Rosenthal said on Sunday. The club has not commented.


Archer 'can't wait to experience' home opener
Chris Archer is scheduled to start the Pirates' home opener against the Cardinals. When manager Clint Hurdle announced Pittsburgh's opening series rotation on Saturday, he also gave Archer the nod for the season's first game at PNC Park.


Phillies In Lead For Bryce Harper
As was the case a month ago, the Phillies are the favorites to sign free-agent outfielder Bryce Harper, Jon Heyman of MLB Network tweets. But Harper's market has "intensified," according to Heyman, who unsurprisingly notes he'll eventually sign a long-term contract. Philadelphia met with Harper back on Jan. 10, though he and fellow free-agent superstar/Phillies…


Baseball Blogs Weigh In: Marwin, Tribe, Pads, Harper, Machado, Yanks, Severino
This week in baseball blogs… The Dugout sees Marwin Gonzalez as a perfect fit for the Indians. East Village Times weighs in on the Padres' pursuits of Bryce Harper and Manny Machado. The Runner Sports reacts to Luis Severino's extension. Wander Rays addresses comments Madison Bumgarner and Jeff Samardzija have recently made regarding "the opener."…


The Rangers have signed outfielder Ben Revere to a minor league contract with an invitation to major league spring training, Ken Rosenthal of The Athletic reports. The deal comes with a $1MM salary if Revere makes the majors, per Jon Heyman of Fancred. Revere, out of work since the Angels released him last August, is…


AL Notes: Castellanos, Stroman, Rangers, Calhoun, Royals
The agent for Tigers outfielder Nicholas Castellanos said in January his client would prefer a trade, but the slugger met with the media Sunday and told reporters, including Chris McCosky of the Detroit News, he'd be willing to discuss a long-term contract with the club. The rebuilding Tigers made a legitimate effort to move Castellanos…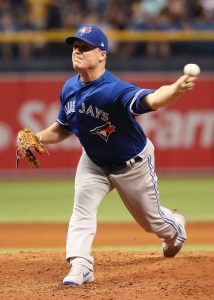 11:41am: The Padres have announced the signing. To make room for Loup on their 40-man roster, they moved Richards to the 60-day injured list. 10:25am: The Padres are set to sign left-handed reliever Aaron Loup, per AJ Cassavell of MLB.com. Loup, a Beverly Hills Sports Council client, will receive a one-year, major league contract with…


Sources: Rangers ink Revere to Minors deal
The Rangers have signed veteran outfielder Ben Revere to a Triple-A contract with an invitation to Spring Training, according to Major League sources. The club has not confirmed the deal, which is pending a physical scheduled for Monday.


Celtics coach Stevens visits Cora, Red Sox
As Red Sox manager Alex Cora got ready to do his daily press briefing after Sunday's workout, he saw from a distance that the media was preoccupied with another prominent Boston coach.


East Notes: Stroman, Phils, Moustakas, BoSox, JDM, Mets, Alonso
Right-hander Marcus Stroman expressed frustration toward the Blue Jays on Sunday for not offering him a contract extension during the offseason. However, Stroman's claim was refuted by an industry source, Shi Davidi of Sportsnet reports. Whether or not the team did submit an offer(s), no deal has come to fruition, leaving Stroman in his penultimate…


Friars get lefty bullpen option by signing Loup
The Padres and southpaw Aaron Loup agreed to a contract for 2019 on Sunday. The club made room on its 40-man roster by transferring right-hander Garrett Richards to the 60-day injured list.


New-look Sano fully committed ahead of 2019
What a difference a year makes. As Miguel Sano made his entrance to the Twins' clubhouse Sunday morning and was greeted by teammates and staff members, the consensus was clear: His body looks good.


Franco ignoring rumors, ready for 3B battle
Maikel Franco followed the endless and often mind-numbing speculation the past few months from the Dominican Republic. Franco knows that Manny Machado could show up at Spectrum Field at any moment. The Phillies entertained him at Citizens Bank Park just before Christmas. They have made him at least one contract offer. If the Phillies sign him, Franco also knows he could be traded.


Donaldson ready to prove GM, Braves right
While playing close to his Alabama home and enjoying a chance to once again work with Atlanta general manager Alex Anthopoulos, the former American League MVP Award winner Josh Donaldson also understands the importance of rejuvenating his career with his deal.


NL West Notes: Machado, Padres, Rockies, Maybin, Kelly
The Padres continue to be linked to Manny Machado on the rumor mill, and The Athletic's Dennis Lin (subscription required) provides a bit of history on San Diego's pursuit of the star infielder.  It wasn't until late January that the Padres began to "seriously contemplate" the idea of signing Machado, due to his high asking…


Click here to join a live chat about everything in the baseball world, hosted by MLBTR's Mark Polishuk


Shortstops to watch in your fantasy draft
It's possible that we're seeing the best crop of young shortstops in history, meaning it's pretty hard for fantasy drafters to go wrong at the position. With that confidence in mind, here's a look at the top fantasy options at shortstop via MLB.com's 2019 rankings.


Boone on Judge: 'He's good to go'
Watching Aaron Judge pummel batting-practice fastballs at the Yankees' Minor League complex this week, two words came to Aaron Boone's mind: "Plus power."


Nats GM deflects question about Harper
Mike Rizzo swatted away a question about where the Nationals stand with Bryce Harper, the 26-year-old star still without a home as camps are underway. "We're going to talk about the players we have on the team," Rizzo said. "We're not going to talk about players that we don't have on the team."


JV, Cole, Rodgers face live hitters at camp
The first live bullpen sessions of the spring typically draw a crowd, and that certainly was the case when Justin Verlander, Gerrit Cole and Brady Rodgers faced hitters for the first time Sunday afternoon on the back fields at Ballpark of the Palm Beaches.


West Notes: D-backs, Greinke, Giants, Zaidi, Mariners, Ichiro
The Diamondbacks have waved goodbye to cornerstones Paul Goldschmidt, A.J. Pollock and Patrick Corbin in the past few months, leaving right-hander Zack Greinke as their best remaining player. In all, things haven't gone according to plan for the Diamondbacks since they signed Greinke to a whopping six-year, $206.5MM contract heading into 2016, but he said…


EKU a perfect fit for Andre Dawson Classic
The Andre Dawson Classic features teams that are mostly categorized as HBCU -- Historically Black Colleges and Universities. But the tournament isn't limited to only schools that fall under that purview. In its 12-year history, several non-HBCU schools have been invited to participate as well, including this year's lone non-HBCU team -- Eastern Kentucky University.


Votto aims to improve after 'frustrating' 2018
Even before the Reds underscored their determination to improve by making major offseason acquisitions for the club, first baseman Joey Votto was already working to improve his hitting and his overall game.


Where will remaining FAs sign? Here are some fits
We understand that things get a bit more complicated for unsigned free agents after camps start. Lots of teams want to take a look at their best prospects before signing an older free agent. On the other hand, this market is still so flush with talent that every team has avenues to improvement.


Vandy's Bleday standing out in MLB4 tourney
JJ Bleday could be the first college outfielder selected in the 2019 MLB Draft in June. During this weekend's inaugural MLB4 college baseball tournament, the Vanderbilt standout is showing why that's a strong possibility.


Heyman's Latest: Angels, Moose, Ramos, Braves, Marlins, Camargo
The latest rumblings from Jon Heyman of MLB Network… The Angels are among a handful of teams in on free-agent third baseman Mike Moustakas, joining the previously reported Brewers-Padres-Phillies trio, Heyman tweets. This is the second straight offseason in which the Angels have shown interest in Moustakas, a Los Angeles native who, per Sam Mellinger…


NL Central Notes: Taillon, Brewers, Shaw, Perez, Reds
Contract extensions, including deals for right-handers Aaron Nola (Phillies) and Luis Severino (Yankees), have been a dominant story across Major League Baseball this week. Sooner than later, the Pirates should follow the Phillies and Yankees in inking their own excellent young righty, Jameson Taillon, for the long haul, Kevin Gorman of the Pittsburgh-Tribune Review opines.…


Sevy confident after inking contract extension
Luis Severino had been cautioned that arbitration would not be a fun experience, voicing a desire to avoid the process. About thirty minutes before he and the Yankees would have gone head-to-head in a St. Petersburg conference room, both sides instead celebrated an agreement that provides the right-hander with financial security for generations.


Yanks open to extensions for other big players
Now that Luis Severino and the Yankees were able to avoid salary arbitration and find common ground on a four-year, $40 million contract extension, could Aaron Judge or Gary Sanchez be the next "Baby Bombers" to cash in?


Vlad Jr. draws praise upon spring arrival
The Blue Jays' biggest star arrived Saturday morning when top prospect Vladimir Guerrero Jr. officially reported to Spring Training. Guerrero took part in a few rounds of batting practice and hit at least one ball out of the park. The Dominican native is expected to speak to the media Monday for the first time this spring as he sets out to begin his first full Major League Spring Training.


CC Sabathia Officially Announces Retirement After 2019 Season
In a press conference in front of the Steinbrenners, most of the Yankee roster and his wife and kids, C.C. Sabathia has officially announced his intentions to retire at the conclusion of the 2019 season. Included in a statement released by the team was written statements from a wide-ranging collection of voices, including Derek Jeter, Joe…


Angels, Luke Bard Agree To Minors Deal
The Angels have signed reliever Luke Bard to a minor league deal, per Jeff Fletcher of the Orange County Register. Bard, 28, was a Rule V selection by Los Angeles last winter; after a lukewarm April audition, in which the righty was deployed mostly in mop-up duty, Luke was shuttled back to Minnesota, with whom…


O's ink veteran Escobar, extend spring invite
The Orioles' cloudy infield picture gained some clarity Saturday when the team signed veteran shortstop Alcides Escobar to a Minor League contract with an invitation to Spring Training.


Rangers Sign Adam Moore To Minor League Deal
The Rangers signed catcher Adam Moore to a minor league deal and invited him to major league camp, per John Blake, the team's Executive VP of Communications (via Twitter). Moore passed his physical this morning, making the deal official, per Jeff Wilson of the Fort Worth Star-Telegram (via Twitter). The Rangers now have 66 players…


Segura moving forward with contending Phillies
Jean Segura became one of the Phillies' most notable offseason acquisitions, a two-time All-Star expected to give the organization its best overall production at shortstop since Jimmy Rollins left town, in part because of a little brawl he had late last season with Mariners teammate Dee Gordon.


Healthy Correa looks to put 2018 behind him
You can't help but learn a few things when you had the kind of year Astros star shortstop Carlos Correa experienced last season, when a nagging back injury derailed him in the second half and forced him to deal with the biggest adversity of his career.


Alonso looks to force Mets' hand, crack roster
Fresh off a season in which he bashed 36 homers over two Minor League levels, including 19 in 67 games at Triple-A Las Vegas, Peter Alonso is arguably the Mets' best first-base option already. Unlike Atkins, general manager Brodie Van Wagenen has said he will carry Alonso on New York's Opening Day roster if he proves his mettle this spring.


Giants Finalizing Agreement With Cameron Maybin
Per Andrew Baggarly and Ken Rosenthal of The Athletic, the Giants are "finalizing" an agreement to bring outfielder Cameron Maybin to Spring camp as a non-roster invitee. Maybin, 32 in April, has spent time with four teams over the last two seasons, dropping an identical 88 wRC+ in each. Mired for the last three seasons…


Orioles Sign Alcides Escobar To Minor League Deal
Per a team release, the Orioles have signed shortstop Alcides Escobar to a minor league deal with an invite to Spring Training. MLB Network's Jon Heyman tweets that Escobar will receive $700K if he cracks the big-league roster. Escobar, 32, finally fell out of favor in Kansas City, where from 2015-18 his .251/.284/.336 (64 wRC+)…


East Notes: Yankees, Phils, Herrera, Red Sox, Blue Jays
The Yankees signed right-hander Luis Severino to a four-year, $40MM extension shortly before they were scheduled to face off against him in arbitration Friday. General manager Brian Cashman spoke about the buzzer-beating agreement Saturday, saying (via George A. King III of the New York Post): "We circled back 30 minutes before the hearing and I…


Tebow makes it clear: 'I'm all in on baseball'
Those who once dismissed Tim Tebow's transition from NFL quarterback to professional baseball player are officially on notice. Tebow is an outfielder first these days, the evidence plain to see in his slimmed-down body and shortened swing.


Reagins sees potential of MLB4 tournament
During this weekend's inaugural MLB4 college baseball tournament, the league's goal has been to expose the college level to a wider audience in an effort to continue to grow the sport. And Tony Reagins, MLB's executive vice president of baseball and softball development, has been pleased with the event.


Giants reportedly adding Maybin to OF mix
Four days after signing Gerardo Parra, the Giants are close to adding another veteran reinforcement to their crop of outfielders. The Giants are working to finalize a Minor League deal with outfielder Cameron Maybin, according to a report from Andrew Baggarly and Ken Rosenthal of The Athletic.


WATCH LIVE: Andre Dawson Classic
Watch a simulcast of MLB Network's coverage as Eastern Kentucky and Florida A&M square off in the Andre Dawson Classic from New Orleans.


NL Notes: Cespedes, deGrom, Arenado, Marlins, Barrett
Mets outfielder Yoenis Cespedes provided an update on his efforts to return from surgeries to both heels. As Deesha Thosar of the New York Daily News writes, Cespedes expressed confidence that he will be able to make it back to the MLB field, but says it's unlikely to occur before the middle of the coming…


Acuna: 'I'd like to stay in the leadoff spot'
When the Braves re-signed Nick Markakis in January, they began leaning toward putting Ender Inciarte in the leadoff spot and moving Ronald Acuna Jr. to the cleanup role. But manager Brian Snitker said Acuna may still get his wish to stay at the top of the lineup.


Contenders hard at work on first drafts of 2019
With or without Bryce Harper, you know the Nationals expect to contend this season. The Astros always expect to contend. But both Mike Rizzo and Jeff Luhnow, who run baseball operations for these two teams, know the same thing all bosses of contending teams know: They are only working on the first drafts of their seasons.


Talented Jimenez drawing comparisons to greats
The names of Manny Ramirez and Miguel Cabrera have been evoked when searching for comparisons involving Eloy Jimenez, the No. 1 White Sox prospect per MLB Pipeline and No. 3 overall in baseball.


Grandy sets example for baseball-playing cousin
Family ties are common in baseball. But it's notable that Calvin Rucker's second cousin is Curtis Granderson, a veteran of 15 Major League seasons who is, according to Rucker, "one of the best family members and friends I could have asked for.


Maddon to take a 'fluid' approach to closer role
Standing at his locker, Cubs reliever Pedro Strop cracked a smile when asked for his thoughts on being the closer to start the season. "Did he tell you I'm going to be the closer?" Strop said with a laugh, referring to manager Joe Maddon.


Farquhar takes inspiring first step at camp
His inspirational recovery from a brain hemorrhage complete, Danny Farquhar intends to continue beating the odds this year, aiming to return to a big league mound as a member of the Yankees' bullpen.


CC on retiring after 2019: 'It's been a great ride'
The statistical achievements have accumulated throughout CC Sabathia's meritorious career, but he has never seemed interested in studying the back of his baseball card. Through 18 seasons in the big leagues, the big left-hander's main objective has been to serve as a positive influence for the teams that he has pitched for.


Strasburg enters pivotal season with options
Comfort was one of the biggest reasons Stephen Strasburg signed a seven-year, $175 million contract extension with the Nationals in May of 2016, opting to remain with the only organization he has ever known rather that test free agency.


Catch? Pitch? Panda ready to do it all
Shortly after reporting to Giants camp this week, Pablo Sandoval met with manager Bruce Bochy and reiterated his desire to help the club in whatever way he can.


Crew would welcome Moose 'with open arms'
Brewers fans have been Moose hunting, wondering when veteran third baseman Mike Moustakas will finally escape free agency and find a home. His teammates during the second half of last season are wondering, too.


AL Notes: Vlad Jr., Bogaerts, Twins, Castellanos
It has long seemed obvious that the Blue Jays would prefer to hold top prospect Vladimir Guerrero Jr. at Triple-A to open the 2019 season. After all, the team decided not to call him up late last season and can push back his potential free agency by one season if they keep him down for…


Quick Hits: Giants, Harper, Iglesias, Severino
Giants frontman Farhan Zaidi is still exploring trade opportunities, per Kerry Crowley of the Bay Area News Group (via Twitter). The recent additions of Gerardo Parra, Craig Gentry, and Yangervis Solarte, after all, aren't likely to form the backbone of the next World Series champion in the Bay. Still, they fit as puzzle pieces in Zaidi's…


Reds Sign Robbie Ross To Minors Deal
The Reds have reportedly signed reliever Robbie Ross to a minor league deal. Ross, 29, held down a regular spot in the Ranger and Red Sox bullpens from 2012-16, but has missed much of the last two seasons with elbow and back problems. In 2016, his last full season of work, Ross turned in an…


Rockies Notes: Chemistry, Leadoff, Bullpen Roles
Although team chemistry is difficult to gauge and impossible to measure, there's little doubt to the positive impact made by lead-by-example types Nolan Arenado and Charlie Blackmon, per Patrick Saunders of the Denver Post. While Arenado and Blackmon make the culture what it is with their intensity and work ethic – as they should since…


NL Central Notes: Tazawa, Brach, Pirates, Goldschmidt
Junichi Tazawa is set to arrive in Cubs camp on Monday after working out visa issues that delayed his arrival, per the Chicago Tribune's Mark Gonzales. Tazawa remains a long shot to make the Cubs Opening Day roster, as he hasn't been an asset to a major league bullpen since 2016 with the Red Sox.…


Twins commit to core, extend Kepler & Polanco
The Twins' focus this season will be continuing to develop their young core, and they moved to secure two of those key pieces for the long term on Friday, officially inking shortstop Jorge Polanco and outfielder Max Kepler to five-year extensions.


Fowler receives affirmation from Bonds
It was in early January, not long after Dexter Fowler had received full medical clearance to reengage in baseball activities, that he sent video of his swing to longtime mentor Barry Bonds.


Blue Jays latest to embrace spin-rate machine
The Blue Jays have followed the lead of several other teams around Major League Baseball by using a Rapsodo machine to analyze spin-rate data. A Rapsodo camer is used to understand how much movement, velocity and spin pitchers are getting on every toss.


Dodgers 'slow-playing' Buehler this spring
Dodgers manager Dave Roberts confirmed the club is "slow-playing" pitcher Walker Buehler early this spring, but insisted Buehler will be ready when the regular season opens.


Greinke arrives at D-backs camp
D-backs ace Zack Greinke reported to Salt River Fields on Friday after missing the first two days of pitcher and catcher workouts.


Here's every top prospect in big league camp
Spring Training is finally here, and there is a plethora of prospects looking to make an impression in Florida and Arizona. Here's a look at every team's Top 30 prospects who are currently in big league camp.