Luke 22:52-53 (52) Then Jesus said to the chief priests, captains of the temple, and the elders who had come to Him, "Have you come out, as against a robber, with swords and clubs? (53) When I was with you daily in the temple, you did not try to seize Me. But this is your hour, and the power of darkness.' This tragic situation shows unbelief to be destructive, ugly, and cruel. Christ possessed all the power to serve—to heal and to bring peace—yet H...


The serpents return: Ireland votes by landslide to legalize abortion...
Early results on Saturday morning are projecting the repeal of the abortion ban in Ireland, a decision pro-life groups are calling tragic and disappointing. Exit polls by the RTÉ are projecting 69.4 percent of citizens voted on May 25 against keeping the Eighth Amendment, which recognizes the equal right to life of the mother and the unborn child...


Revelation 6:15 (15) And the kings of the earth, the great men, the rich men, the commanders, the mighty men, every slave and every free man, hid themselves in the caves and in the rocks of the mountains, Juxtaposed against "the kings of the earth, the great men, the rich men, the commanders, the mighty men" is another group: "every slave and every free man" (Revelation 6:15). Who are they? What role do they play in the caves? To understand, we first need to dea


Are there UFOs in religious art? (And more weird questions!)...
In this episode of Catholic Answers Live (May 25, 2018, 2nd hour), Jimmy answers the following questions: Why do we associate good with "up" and down with "bad"? Why do some Medieval religious paintings look like they have spacemen and UFOs in them? Could a priest or the pope bless an entire ocean and make it holy water...


Deacons vesting in dalmatics for concelebrations...
What's with the vestimentary and liturgical stinginess when it comes to deacons? Deacons are clerics, but NO! they can't wear clerical clothing unless its gray or in some other way altered. Deacons are liturgical ministers, ordained for service at the altar, but NO! they can't put on their proper vestments. This is absurd...


Goodbye Catholic Ireland: Lessons from the abortion referendum...
Catholic Ireland saved civilization from extinction in the dark ages, produced copious missionaries and saints. But that is no more. It didn't die a great battle but in a whimper. Years of English persecutions could not break Catholic Ireland, but in a much shorter time of apathy has more or less extinguished the faith. This nation had 87% weekly Mass attendance when I was a boy but today voted 2:1 to legalize abortion...


Here's why Padre Pio's father went to live in New York...
Padre Pio was born to a poor peasant family in the rural town of Pietrelcina, Italy. They had little money and his parents could not read or write. However, Pio's parents had high hopes their son could one day follow his calling to be a priest. As a young boy Pio had related to his parents a desire to become a religious and they asked a local Capuchin community of friars if they would accept him...


13 inconvenient truths about what has been happening in Gaza...
The cacophony that accompanies every upsurge in the Israeli-Palestinian conflict can make it seem impossible for outsiders to sort out the facts. Recent events in Gaza are no exception. The shrillest voices on each side are already offering their own mutually exclusive narratives that acknowledge some realities while scrupulously avoiding others...


Pondering Isaiah's advice to close our Eyes lest we 'look on evil'...
In this age of nearly instantaneous communication, there is an overwhelming amount of news and information available to us. There is nothing wrong with news and information, but each of us must decide how much exposure, in terms of time and content, is good for us. Not all "Breaking News!" is really that urgent. Too much news can distract us...


Could Pope Francis be shifting his stand on gay influence?
No sooner had I spotted one hopeful sign in the Pope's handling of the Chilean sex-abuse scandal when today's news brought another. Pope Francis has reaffirmed the Church's policy barring active homosexuals from seminaries. I know; I know. This concern about homosexual influence contrasts quite sharply with the Holy Father's reported advice to a gay Chilean abuse victim to "be happy with who you are...


How to switch from Martha to Mary in an instant...
At some point in every woman's life one desires the advice of someone older and wiser; to provide counsel about how to manage each day, negotiate odd predicaments or navigate pitfalls. There is a long Catholic tradition of selecting a saint to guide us through a year. Sometimes we pick the saint, or sometimes it seems like the saint picks us...


The awesome beauty of Jupiter captured by the Juno spacecraft, in 13 photos...
On July 4, 2016, NASA's Juno spacecraft arrived at Jupiter traveling at a blistering 130,000 mph. Its mission — to orbit the gas giant closer than any craft had done before — was not easy. Like Earth, Jupiter is surrounded by a field of magnetic radiation. But Jupiter's is much, much stronger. If Juno didn't hit a precise region at the poles where the magnetic field is the weakest in its entry...


How to make your own BBQ spice rubs...
Many great meats start with a great spice rub. While you can buy any number of blends from the store, why not try your hand at creating your own? There's no better place to get started with creating your own spice blends than with DIY BBQ rubs. Whether you'll be massaging it into ribs or pork butt or brisket, BBQ rub has a number of uses and can enhance many of your summer-grilling favorites...


Irish Times exit poll projects Ireland has voted by landslide to legalize abortion...
Ireland has voted by a landslide margin to change the constitution so that abortion can be legalised, according to an exit poll conducted for The Irish Times by Ipsos/MRBI. The poll suggests that the margin of victory for the Yes side in the referendum will be 68 per cent to 32 per cent - a stunning victory for the Yes side after a long and often divisive campaign...


Ephesians 5:28-33 (28) So husbands ought to love their own wives as their own bodies; he who loves his wife loves himself. (29) For no one ever hated his own flesh, but nourishes and cherishes it, just as the Lord does the church. (30) For we are members of His body, of His flesh and of His bones. (31) "For this reason a man shall leave his father and mother and be joined to his wife, and the two shall become one flesh." (32) This is a great mystery, but I speak concer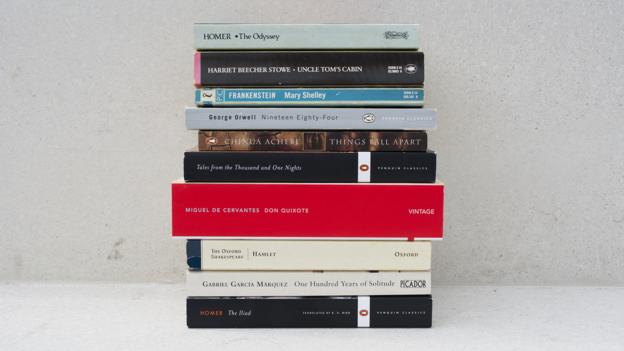 BBC survey: The 100 stories that shaped the world...
In April, BBC Culture polled experts around the world to nominate up to five fictional stories they felt had shaped mindsets or influenced history. We received answers from 108 authors, academics, journalists, critics and translators in 35 countries - their choices took in novels, poems, folk tales and dramas in 33 different languages...


'Solo' isn't a total waste of time, but.....
In the 40-plus years since Star Wars took the box office and pop culture by storm, no plot point or line of dialogue, however essential or trivial, has avoided endless scrutiny and second-guessing from fans and skeptics alike. How could the Death Star's catastrophic vulnerability, so obvious that Rebel analysts spotted it immediately...


If someone asked you to prove that God exists, what would you say?
What would you have to draw upon to answer this question — revelation, science, or philosophy? Revelation gives us knowledge of God as a free gift and does not require us to prove its contents, but to understand them with the help of the Church. Science cannot prove God's existence, because God is not an object of empirical study that can be measured with earthly means...


Justin Trudeau and the dictatorship of relativism...
You've probably never heard of the Waupoos Family Farm. I hadn't either, until I met some folks involved in it during a recent visit to Ottawa. Their story vividly illustrates the dictatorship of relativism at work. The farm is a vacation site for poor families who can't afford a holiday together. It's run by Christians who apply only one criterion to their potential guests: applicants must have an income below Statistics Canada's poverty line...


Working with HSLDA, Google makes education tool suite available to homeschoolers...
Editor's note: Our goal at Google is to make technology that works for everyone. Last year we made Classroom available to more students and teachers, including homeschoolers, and today we're also updating the eligibility guidelines for G Suite for Education so homeschool co-ops in the U.S. can collaborate using G Suite for Education...


Humanae Vitae needs no update, commission chairman says...
The professor who chaired a Vatican study group on Humanae Vitae stressed that the Bl. Paul VI's encyclical "needs no updating." Professor Gilfredo Marengo, of the Pontifical Theological Institute for Studies on Marriage and Family, spoke with CNA at the presentation of his latest book, "Chiesa senza storia, storia senza Chiesa" (Church without history...


Wounded warriors head to Lourdes to seek healing and peace...
American veterans in search of healing attended a recent pilgrimage to Lourdes, through the Archdiocese for Military Services and the Knights of Columbus. Among the pilgrims was Charles Baldinger, a West Point-educated infantry officer who had to retire due to Stage 4 brain cancer. "We came for physical healing with my right side and speech...


Pilgrimage of John XXIII's remains refutes religion's demise...
On Thursday morning, a small convoy with police protection will depart from the Vatican bound for the northern Italian city of Bergamo, almost six and a half hours away. In a sense, it's actually a papal motorcade, but of a highly unusual sort. A pope will indeed be making his way north, but not the current occupant of the office...


Saint's statue removed from Catholic church as repression gathers pace in China...
A statue of a martyr saint has been removed from a Catholic church in Hebei province as Chinese authorities continued their clampdown on religious freedom. The statue of St. John Wu Wenyin was unveiled at Dongertou Catholic Church in Yongnian parish of Handan Diocese on May 3 but a source told ucanews.com that authorities asked the church to remove the statue after the ceremony "stirred a commotion on the internet...


Revelation 18:4 (4) And I heard another voice from heaven saying, "Come out of her, my people, lest you share in her sins, and lest you receive of her plagues. When God separated Abraham and his family from his family and his country, and when God separated Israel from Egypt, their sanctification was also geographical. He literally moved them from one place on earth to another. His purpose was to establish a new community of people all involved in the same purpo


Firemen save tabernacle from New Jersey church fire...
Lord, have mercy. A few days ago, a four-alarm blaze engulfed the chapel at Mary Help of Christians Academy in North Haledon, NJ, an all-girls high school run by the Salesian Sisters of St. John Bosco. The fire alarm went off at 1:29am on May 18th, and though firefirghters came from four nearby municipalities, the fire wasn't extinguished until around 4am...


The unlikely new contestant on NBC's American Ninja Warrior is a Catholic priest...
Among the contestants on season 10 of NBC's American Ninja Warrior, there's one who stands out. In addition to being a physical trainer, Father Stephen Gadberry is also a Catholic priest. He hopes that his participation in the upcoming season of American Ninja Warrior will make the clergy appear more human and available. Physical activity can be a "simple way to start a conversation with a spiritual leader...


Pope hints at new CDF document on end-of-life issues...
Not a lot of people are aware of it, but the pope periodically meets with and gives a speech to the different departments at the Holy See. Every January, for example, he gives an address to the Congregation for the Doctrine of the Faith (CDF) and the Roman Rota (one of the major legal courts at the Vatican). He also gives periodic speeches to groups associated with the Holy See...


'Gay doesn't matter' remark continues 'shadow magisterium'...
Pope Francis has pioneered a new form of papal teaching, massively influential but officially nonexistent. It is something of a shadow magisterium, but on occasion it shines a brighter light than the official magisterium. The latest example regards the nature of homosexuality. Juan Carlos Cruz, one of the Chilean sexual-abuse victims who spent several days with Pope Francis in April...


Little-known facts about 6 U.S. bishops...
Bishop of Oakland, California, Michael Barber, in addition to being diocesan bishop, has been a commissioned officer for the U.S. Navy Reserve for 27 years. In 1991, while studying in Rome, he was asked to celebrate Mass onboard naval vessels heading to and from the First Gulf War. He was told, "Father, the next time you come aboard...


In our day, as during the time of Luther, what happens in Germany will not stay in Germany...
In The Making of Martin Luther, the Cambridge scholar Richard Rex notes that 1518, not 1517, marks the real birth of Luther's public profile. Luther's Ninety-Five Theses hit the wider German market in January 1518. He wrote his Instructions for Confession and his Sermon on the Proper Preparation of the Heart for the Reception of Communion in the spring of the same year...


The last ride of legendary tornado chaser Tim Samaras...
Tim, Carl, and Paul hit the turn onto Reformatory Road just after 6:15. Rain now rips over the road in dense horizontal sheets. Objects plunge through the air like knots of sparrows. Carl rounds the corner and guns it north, with conditions pushing the Cobalt to its limits. Each second is precious. Whether or not they realize it...


Keeping Catholic schools Catholic in a "love is love" culture...
For the last few years we have sent our oldest child to our beautiful local parish school. The education there has given us and our child many blessings—frequent visits to the church, interaction with the priests, strengthened connection to the parish and diocese, as well as a sense of community. The list of wonderful things goes on...


16 tips to improving your parish hospitality...
Every parish has visitors, but not every visit is the same. Are your visitors having a positive experience? Will they come back? Do they feel welcomed? How is our hospitality to these visitors? Think of the last time you visited another parish for the first time. Did you know where to park? Did you find your way around easily? Did you feel welcomed...


On entering the Church: When a friend becomes family...
On Sunday afternoon at the Church of the Holy Family in New York City near the United Nations, my young friend Barbara stood in front of a priest. She stood by herself except for a nun, her sponsor, standing at her side and slightly behind her. The priest, the nun, and my friend made a small island in the wide space in front of the altar...


Why did tongues of fire appear at Pentecost?
Why tongues of fire? Why not lips of fire or words of fire? Why not a fiery dove to conform to the baptism of Christ at the Jordan? The tongues likely evoke the Hebrew concept of "tongues" praising God. As such, there is a Jewish mystical tradition that God's heavenly temple above is surrounded by praising "tongues of fire...


When priests are formed to lead spiritual warfare, the vocations crisis will take care of itself...
John Allen reports at CRUX today on the Holy Father's brisk and realistic discussion with the Italian bishops about the crisis in the Italian church. There are money problems, clergy living high off the hog, bishops being sly with the loot and a general falling away from the faith. As I have written elsewhere, the situation in the church right now is not so different from the church at the threshold of the Protestant Revolution...


Philadelphia's unnecessary war on Catholics (Washington Post paywall)...
At a time when more than 400,000 children are in foster care nationwide, the city of Philadelphia is threatening to cut ties with Catholic Social Services because of the group's policy against placing foster children in same-sex households. On the surface, one might say this is a classic case of state vs. church: The city must uphold its policies forbidding discrimination on the basis of sexual orientation...


Where is the original Siloam Pool from the Bible?
Where is the original Siloam Pool, the water pool that fed Jerusalem in the First Temple period and is mentioned in the Bible (2 Kings 20:20; 2 Chronicles 32:2-4)? Although the Second Temple-period Siloam Pool—which appears in John 9 where Jesus heals a blind man—was discovered in 2004, the earlier Siloam Pool remains unknown...


Origami robots just helped build the world's smallest house...
Pushing the tiny-house movement to bizarre new limits, French scientists have constructed the "world's smallest house" on the tip of an optical fiber. With each wall spanning about 0.0006 inches in length, the humble chalet is too small to accommodate a dust mite, an amoeba or a sperm cell. It's about 10,000 times too small to host a tardigrade; it's even too small to hold a piece of tardigrade poop...


A closer look at those Justice Kennedy retirement rumors...
Rumors are flying that Justice Anthony Kennedy, 81, will tender his resignation by summer. The closely watched "swing" vote on the ideologically divided high court, Kennedy is the subject of furious speculation by court watchers. Republicans are eager to replace the California native with a more reliably conservative jurist...


2 Thessalonians 1:7-10 (7) and to give you who are troubled rest with us when the Lord Jesus is revealed from heaven with His mighty angels, (8) in flaming fire taking vengeance on those who do not know God, and on those who do not obey the gospel of our Lord Jesus Christ. (9) These shall be punished with everlasting destruction from the presence of the Lord and from the glory of His power, (10) when He comes, in that Day, to be glorified in His saints and to be admired


What if Helena Daily were for priests?
When we launched Helena Daily, a dear priest friend voiced his concern that we were being a bit sexist. I offered to remedy it by adding an occasional piece for men, or better, we could make a collection exclusively for our beloved priests. So here is our specially (tongue-in-cheek) cultivated collection for the Men in Black.


Pope laments vocations 'hemorrhage,' wants 'clear rules' on money...
Speaking to the powerful Italian bishops' conference Monday, Pope Francis tagged three "preoccupations" in the only country in the world where he rules as Primate: a "hemorrhage" of vocations, "evangelical poverty and transparency," and the need for a "consolidation" of Italy's sprawling number of dioceses. Francis told the bishops he wasn't sharing these concerns to "beat you up...


The silence, richness and beauty of the Traditional Latin Mass...
Many Catholics would be skeptical to walk into a Mass that seems straight out of the Middle Ages, a Mass they could barely understand. The stigmas surrounding the "Latin Mass" has led numerous Catholics to question it: If the Church changed it, why go back to the "old ways"? Can I even get anything out of it? Wasn't it invalidated...


Why is there such strong hatred for the Church?
In the final week of Easter, there were frequent references in the readings to the fact that the world would hate true Christians. For example, If the world hates you, understand that it hated Me first. If you were of the world, it would love you as its own. Instead, the world hates you, because you are not of the world, but I have chosen you out of the world...


New technology lets parents hold 3D-printed likenesses of their unborn babies...
Whether you are just having your first child—and may have waited quite some time to experience the wonders of pregnancy—or whether you are having your third or fourth child, the magic and the anticipation are like little else you will ever experience in life, especially as you have been responsible for creating it. Most parents spend countless moments and hours imagining what their babies will be like...


Bishops' fates in the balance, Pope to consult Chile victims — again.....
Five days after all the Chilean bishops moved to offer their historic joint resignation to the Pope, late tonight brought a further sign of Francis' immersion in the country's abuse crisis - a sudden Vatican announcement that a second group of victims would spend next weekend staying with the pontiff at the Domus (above) for private talks...


Pope's Wednesday Audience: Christians are salt and light, made so by the Holy Spirit...
The Holy Spirit helps Catholics to do good works by giving them the gifts they need to be effective 'salt and light' in the world, Pope Francis said at the general audience Wednesday. Like Jesus said: "You are the salt of the earth... you are the light of the world," the pope said May 23, explaining that the images of salt and light "make us think of our conduct...


Australian archbishop convicted of child sex abuse cover-up...
An Australian archbishop on Tuesday became the most senior Roman Catholic cleric in the world convicted of covering up child sex abuse and faces a potential two years in prison when he is sentenced next month. Magistrate Robert Stone handed down the verdict against Archbishop of Adelaide Philip Wilson in Newcastle Local Court, north of Sydney...


They Might Be Giants on joy, death and unlikely anagrams...
When Pope Francis, writing in "Evangelii Gaudium", said that "the Church will have to initiate everyone" into the "art of accompaniment," he probably didn't mean every Catholic should learn to sing while playing an instrument. Yet the long-running musical duo They Might Be Giants, whose 20 studio albums have sold more than 4 million copies...


After Pentecost, we sing and pray the Salve Regina...
This is one of the four Marian antiphons the Church uses throughout the liturgical year. The Alma Redemptoris Mater is chanted from the First Vespers of the First Sunday of Advent through the Feast of the Purification on February 2. The Ave, Regina Caelorum/Hail, O Queen of Heaven is the antiphon from the Purification until the Wednesday of Holy Week...


How people become digital pirates without even knowing it...
I am an avid music-lover. I have a Spotify account, for which I pay a monthly subscription and through which I listen to most of my music. But since my car does not have Bluetooth, I cannot use a streaming service like Spotify in the car. So I use an iPod with digital MP3 files. Sometimes I acquire my MP3 files from "free music download" sites or by other techniques (e...


Vetoing life, vetoing women's care...
Late last month, the mayor of my city, South Bend, Indiana, vetoed a zoning request put forth by the Women's Care Center, the nation's largest pregnancy resource center, to open a branch next door to the anticipated site of an abortion clinic. The mayor, Pete Buttigieg, a winsome young politician who is often compared to John F...


Why the Church needs more athletics apostolates like Denver-based Frassati Sports ...
Recently, a friend candidly shared with me her worries about the amount of faith her son was getting in our Catholic school. It concerned her that every single subject was neatly tied to Catholicism. She expressed frustration that it all funnels back to the faith. This was my chance. Very rarely in life do you get lobbed the absolute perfect pitch...


Married priests and Synod of the Amazon...
There is no canonical or doctrinal objection to ordaining married men for priestly ministry. Whether it makes practical sense, however, to ordain married men is quite another matter, and whether such ordinations would detract from the appreciation of celibacy itself as "a special gift of God" that has finally, Deo gratias, made its way into codified law (Canon 277)...


A look at the Fruits of the Holy Spirit...
On Pentecost, the Holy Spirit was given unto our mission to the ends of the earth. Among His gifts are the fruits of the Spirit which deserve our attention today. The Fruits of the Holy Spirit in the Catholic Catechism and Tradition are drawn largely from St. Paul's letter to the Galatians where he writes, But the fruit of the Spirit is love...


The 12 tricks of the Antichrist to steal souls, according to Ven. Fulton Sheen...
Talk about prescient! Archbishop Fulton Sheen was one of the great evangelists of the 20th century, taking the Gospel first to radio and then to television and reaching millions of people around the world. In an amazing radio broadcast on January 26, 1947, he explained what he thought the 12 tricks of the Anti-Christ will be. The "Anti-Christ" is a figure talked about in the New Testament that will lead many people away from God...


'The woman' and 'the two'...
There has been a lot of discussion recently about women, such as with the "Weinstein Effect" and #MeToo. Misogyny in our culture is on notice, and the idea of womanhood has come to the forefront. In many respects, we have never before seen a moment like this, focused on the dignity of women. Perhaps it is time the modern world should look toward an older idea of womanhood...


Catholics celebrate first Memorial of the Blessed Virgin Mary, Mother of the Church...
May 21 will mark the memorial of Mary, Mother of the Church, added to the Roman calendar this year by Pope Francis. The annual memorial is intended to foster Marian devotion among Catholics. Cardinal Robert Sarah, head of the Congregation for Divine Worship and the Discipline of the Sacraments, said this celebration will help promote affection for Christ and his mother...


Chilean abuse victim claims Pope 'told me to accept being gay, God made me this way'...
A victim of the Chilean clergy sex abuse crisis who met privately with Pope Francis told a Spanish news source that the Pope told him to accept himself and his same-sex attraction, because God made him that way. Juan Carlos Cruz, a victim of Father Fernando Karadima, met with Pope Francis privately in April after being invited to the Vatican along with other victims of abuse...


1 Thessalonians 5:1-9 (1) But concerning the times and the seasons, brethren, you have no need that I should write to you. (2) For you yourselves know perfectly that the day of the Lord so comes as a thief in the night. (3) For when they say, "Peace and safety!" then sudden destruction comes upon them, as labor pains upon a pregnant woman. And they shall not escape. (4) But you, brethren, are not in darkness, so that this Day should overtake you as a thief. (5) You are a


Why do mass shootings happen? The best explanation is the least comforting.....
On another terrible day, I hate to introduce even more pessimism, but when we discuss mass shootings, one of the first questions we ask is the simplest and also the hardest to answer. Why? Why does this keep happening? Those who advocate for gun control have an immediate answer — the prevalence of guns in the United States. Yet guns have been part of the fabric of American life for the entire history of our republic...


China considers ending birth limits as soon as this year...
China is planning to scrap all limits on the number of children a family can have, according to people familiar with the matter, in what would be a historic end to a policy that spurred countless human-rights abuses and left the world's second-largest economy short of workers. The State Council, China's cabinet, has commissioned research on the repercussions of ending the country's roughly four-decade-old policy and intends to enact the change nationwide...


A close reading of True Grit's perfect first paragraph...
Fifty years ago today, the first installment of Charles Portis's True Grit was published in the Saturday Evening Post. It was reprinted in book form by Simon & Schuster later that year, adapted into a movie (with John Wayne!) the year after, and became a bestseller. It had entered into the murky realm of cult literary classic when it was adapted to film for a second time (with Jeff Bridges...


Ross Douthat: The Irish Exception...
There's a cliche that the politics of Ireland have a way of lagging 30 or so years behind the Western times. The island nation's version of the American 1960s, for instance, only really arrived in earnest in the 1990s, when divorce was finally legalized and the sexual revolution and secularization began to reshape Irish life in earnest...


The 7 best pro-life TV commercials of all time...
Later this month, the citizens of Ireland will vote on the most important legislation in their nation's history. The vote will decide whether preborn life will continue to have any rights under law. For a nation long-regarded as the world champion of the protection of unborn human beings in law, it is tragic that Ireland is even considering the repeal of the right-to-life amendment...


Ever think of the Holy Spirit as your lawyer? If you know a bit about the devil, you should!...
had a professor who with lamentation used to call the Holy Spirit "the forgotten Person of the Trinity." There's at least one way in which this is understandable: Whereas we have solid and strong (albeit woefully incomplete) mental images of God the Father (in the figure of the elderly man, the "Ancient of Days" from the Book of Daniel) and actual evidence of what God the Son really looked like as he roamed our earth...


Pope announces June 29 consistory to create 14 new cardinals...
There will be a consistory June 29 to create 14 new cardinals, each of whom express the "universality" of the Church, Pope Francis announced Sunday after his Regina Coeli address. "Their provenance expresses the universality of the Church that continues to proclaim the merciful love of God to all people on earth," he said May 20...


On Pentecost, Francis revs up the Red Machine, taps 14 new cardinals...
Marking another push to the church's "peripheries" - and even the Vatican's - at the noontime Regina Caeli on this Pentecost Sunday, the Pope revealed his slate of 14 Cardinals-designate to be elevated at a Consistory on 29 June, the feast of Saints Peter and Paul. Francis' fifth intake into the College of his five-year pontificate...


The Chilean Crisis points to greater accountability for bishops...
The announcement from the Vatican on Friday that all of the members of the episcopal conference of Chile — 31 active bishops and three retired — had offered to resign over their handling of clergy sexual abuse is a watershed moment in the history of the handling of sex abuse in the Church. The dramatic step by the Chilean bishops followed less than 24 hours after the end of three days of meetings between the shepherds of Chile with Pope Francis in the Vatican...


Nazissism: The totalitarianism of the self...
More than a century ago, in 1911 to be precise, Holbrook Jackson published a book entitled 'Platitudes in the Making,' a volume of aphorisms expressive of Jackson's radical relativism. "Truth," Jackson proclaimed platitudinously, "is one's own conception of things." "The Big Blunder," Chesterton responded upon reading it...


Matthew 10:38 (38) And he who does not take his cross and follow after Me is not worthy of Me. The cross of Christ can mean two different things: It can be a symbol of what the crucifixion produced (forgiveness, etc.), or it can represent Christ's own example of self-denial and losing His life for a greater purpose—a symbol of great personal cost. Paul writes in I Corinthians 1:18, "For the message of the cross is foolishness to those who are per


Pentecost: Christianity is more than getting out of Hell...
Christianity is more than a canceling of a sin-debt. The central piece of our faith is not just the communication of our cleansing, but the Incarnation of God Himself. But even that doesn't say enough - it's not the whole story. Because it is not just that the divine intermingled with man, like a visitor, but that through Christ man becomes divine...


An egregious case of left-wing anti-Catholic bigotry In Philadelphia...
The City of Philadelphia would rather have orphaned children taken away from Christian foster parents who rely on Catholic Social Services, and leave other orphaned children outside of families, than tolerate Catholic beliefs. Note well that neither Catholic Social Services nor the Archdiocese of Philadelphia is trying to stop the placement of children with gay couples; it's only declining to do so itself based on its longstanding religious convictions...


How Our Lord's mother holds the key to living Pentecost like a true apostle...
The lilies had long died as the daily Gospel readings were preparing us for the arrival of the Holy Spirit at Pentecost. On Monday before Ascension, we were still singing "At the Lamb's High Feast" and various "Alleluia" hymns at the 7 a.m. Mass at St. Patrick's Cathedral on Fifth Avenue in Manhattan. The Communion hymn seemed to help transport me to Divine Mercy Sunday...


Here are my 17 favorite Marian hymns. What are yours?
May is the most beautiful month, so of course it is dedicated to Mary. But what are the most beautiful Marian hymns? I asked that question on Facebook, and heard from friends far and wide. I loved many of their suggestions — some of which introduced me to hymns I had never heard before. Others were hymns that may have once been favorites but which I have now sung maybe 35 or 50 times too many...


Óscar Romero and Pope Paul VI to be canonized October 14, Vatican announces...
Following a meeting between the Council of Cardinals and Pope Francis Saturday, the Vatican announced that Bl. Pope Paul VI and Bl. Oscar Romero will be canonized together on Oct. 14, 2018. During an ordinary consistory May 19, Francis decreed that the two blesseds will be canonized alongside four others: Bl. Francesco Spinelli...


Sit, stand, kneel: The symbolic meaning of all that moving at Mass...
Kneel. Up. Down. Up. Down. Kneel. Up. Down. Up. Whew! Non-Catholics attending a Catholic Mass think a lot of things about the different postures Catholics take. Things like "Oh, up we go again." And "Why are we kneeling?" And "Is it wrong if I kneel with my butt still on the seat, especially if I'm not sure why I'm kneeling in the first place...


A Catholic Anglophile on the royal wedding...
I guess I can take the label of Catholic Anglophile. I moved to England in 1979 to study theology, became an Anglican priest, then converted to the Catholic faith. What do I think of today's royal wedding? Well, part of me can't help noticing that red-haired prince Harry married a divorced woman in St George's Chapel, Windsor where King Henry VIII-another red haired royal with errm...


Welcome to Yakutsk, the coldest city on the planet...
There are plenty of regions in Russia that can claim to be very remote and very cold, but none as extreme as Yakutia. It's an enormous region in north-eastern Russia with an area roughly the size of India but with a population smaller than that of the US state of Rhode Island. Yakutia is well known for its extreme and severe climate...


2 Kings 16:1-6 (1) In the seventeenth year of Pekah the son of Remaliah, Ahaz the son of Jotham, king of Judah, began to reign. (2) Ahaz was twenty years old when he became king, and he reigned sixteen years in Jerusalem; and he did not do what was right in the sight of the LORD his God, as his father David had done. (3) But he walked in the way of the kings of Israel; indeed he made his son pass through the fire, according to the abominations of the nations whom the LOR


After the landmark resignation of 34 Chilean bishops, what's next?
The decision of Chile's 34 bishops to submit their resignations was inevitable after Pope Francis' 10-page letter highly critical of the Church leadership in Chile was leaked this morning. Francis issued a devastating critique of the Church's handling of abuse cases. Not only did the letter include the notorious case of serial abuser Father Fernando Karadima...


The Pope's next steps on sexual abuse in Chile...
After meeting with him for three days, and reading his reflections on the problem of clerical sexual abuse in their country, 34 Chilean bishops submitted their resignation to Pope Francis Friday. The pope is unlikely to accept all of their resignations. He is likely to accept resignations from those who are at the center of Chile's sexual abuse scandal...


Church leaders offer prayers after Santa Fe High School shooting near Houston...
Church leaders voiced their closeness to victims of a school shooting in Santa Fe, Texas on Friday, calling Catholics to pray for all those affected. Cardinal Daniel DiNardo of Galveston-Houston said that he was "deeply saddened" to receive news of the shooting. "My prayers, along with the prayers of the faithful of the Archdiocese of Galveston-Houston...


Church mourns death of Darío Cardinal Castrillón Hoyos...
Colombian Cardinal Dario Castrillon Hoyos died in Rome on Friday, aged 88. His death comes in the month of May, the month dedicated to the Blessed Virgin Mary, for whom he had a particular devotion throughout his life. At peace and cheerful in his final moments, the Cardinal passed away at 1:15 am Rome time, after a life of service...